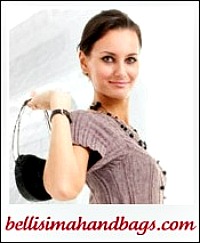 Today's woman wants a designer handbag look but not at an extravagant designer price.
Naples, FL (PRWEB) December 06, 2011
Marcia Dunnigan and Kathy Petersen of Insider Tips, Inc., founders of the popular Bellisima-Designer-Handbags.com website, announce the arrival of their BellisimaHandbags.com online store. BellisimaHandbags.com is different than most web based stores because of the care given to selecting high quality, affordable brand name handbags. The inventory includes only up to date fashionable handbags and purses. The online store also features new handbag designers who have strikingly beautiful products. One such company is Grab-A-Bag brand name handbags who create and make their incredible soft cloth purses here in the U.S.A.
Marcia and Kathy incorporated their readers' suggestions in the design of their Bellisima-Designer-Handbags.com website. This is an informative fact-filled website focusing on women's love for the purse as a popular and needed small suitcase for all the many items a woman needs during a given day. Kathy Petersen, President, explains, "Our readers want a designer look but not at an extravagant designer price. They love reading about all the exclusive handbag designers in today's fashion world and dream about owning a Fendi, Gucci or the coveted YVL tote bag but most realize it's only a dream. We promote the idea that it is best to buy authentic designer handbags, or to choose a purse from the many quality brand name handbags that are in the market place, keeping in mind that there are different price ranges to fit all budgets."
BelissimaDesignerHandbags.com provides insights about the great vintage designers such as Chanel and new up-coming designer handbag purses such as Kooba. The online store at BelissimaHandbags.com showcases over 700 purses online. One of their most popular handbag brands is Floto Imports based out of New York City. These beautiful luxury leather handbags are handmade with Italian leather throughout Italy. "It's unbelievable the affordable prices of these exquisite purses. When we found this company we felt we were honoring our readers' desire for quality designer purses at affordable prices," says Marcia Dunnigan, Vice President.
One objective BellisimaHandbags.com has is to offer a more complete online shopping experience by selectively choosing every purse by the quality of the manufacturer; the affordability of the purses and the design being fashionable as well as functional. The design of the store itself is easy to navigate and all the handbags are displayed in a pleasant and beautiful way. BellisimaHandbags.com customers are enjoying a positive shopping experience with the assurance that Marcia and Kathy stand by what their company promotes.
For more information, visit their informative handbag online magazine at http://www.BellisimaDesignerHandbags.com and be sure to visit its companion on-line store at http://www.BellisimaHandbags.com.
###