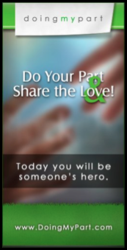 We wanted to marry the viral marketing 2.0 culture with the philanthropic fund raising world. Giving back has never been so fun and easy.
Charlotte, NC (PRWEB) December 14, 2011
Mike Spencer of Charlotte, NC and Josh Delaney of Los Angeles, California have launched the new and unique charitable giving platform, http://www.doingmypart.com. These two young men, 25 and 28, have a vision to unite people in a way that has never been available in the past. By utilizing technology for doing good, 'doing my part' is giving everyone the opportunity to become a "hero" easily and saving lives with a community of like-minded people.
Mike Spencer and Josh Delaney each have their own stories on how DMP came about for them, but the theme remains consistent. They realized early in life that life shouldn't be taken for granted, and the importance of the conscious notion that the future lies in what we all do today. With knowledge of the internet through previous endeavors and growing up as curious and forward thinking individuals throughout the information age, Mike and Josh created doingmypart.com as a "forever brand". A brand that can bring people together for a good cause and consistently create scalable results for in-need organizations and individuals from now on.
With a $3/month automatic-donation to doingmypart.com anyone can now become a "DMP Hero" by signing up one time to 'do their part'. With just 3 clicks, everyone now has the opportunity to simply do their part to help real, life-saving projects. Through doingmypart.com, Mike Spencer and Josh Delaney offer a simple way to help others, track the LIVE progress of each project, celebrate new projects being completed. For complete transparency for the DMP Community, all projects are documented so each "DMP Hero" can witness the difference being made with their $3/month and celebrate being a hero into the future, automatically.
With the goal of reaching 1,000,000 Heroes in the next 5 years, Co-Founders Mike Spencer and Josh Delaney strive to introduce concept of guilt-free, transparent social giving in order to help enhance the way individuals of the world gives back. Going by their motto "We're just trying to leave the world better than we found it," Mike and Josh plan are approaching like-minded social entrepreneurs and organizations and inviting new co-branding partnerships to unite those who believe in creating a better world for us all.
###