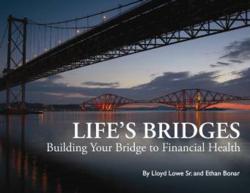 Spend less, Stick to your budget, Pay off debt, Contribute to retirement, and Invest.
Dallas, TX (PRWEB) December 06, 2011
The financial situation of the United States has taken a dramatic turn - and so has the situation for many of its citizens, since the release of "Life's Bridges: Building Your Bridge to Financial Wealth"(Brown Books Publishing Group) by financial experts Lloyd Lowe Sr., founder of LD Lowe Sr. Wealth Adisory in Dallas, TX and senior partner, Ethan Bonar, Chief Compliance Officer.
As such, Lowe and Bonar offer five tips to politicians and voters alike on how to build the bridge to fiscal comfort and financial security for life:
1. Spend less than you earn
In only four of the last 40 years has the US government's spending been less than its intake — from 1998 to 2001. The tables have turned and the government is spending more than it earns from taxes. Everyone has an opinion on whether to raise taxes, cut spending or both, but somehow the budget will need to balance once more.
2. Stick to your budget
A budget is meaningless if you forget about it or decide to throw it out the window as soon as temptation rears its ugly head. Surprises expenses arise, from natural disasters to an unexpected car repair — but that's what savings are for. So plan out your budget and then stick to it.
3. Pay off debt
The only way to effectively manage debt is to pay it off regularly without increasing it. That means that when you're developing a budget to help you spend less than you make, you need to be sure to factor in regular payments of your mortgage, credit card and other debts. It doesn't matter whether you're borrowing from China or from Visa.
4. Contribute to retirement
The United States has something in common with many baby boomers — they didn't prepare for retirement. As retirees begin to outnumber those paying into social security, the government will continue to spend more and make less. If you can afford to, add contributions to a retirement fund to your budget. If you can't, pay off those debts then funnel those regular payments into your nest egg.
5. Invest
To the average consumer, investing looks almost like a lottery — without the benefits of actual randomness. But you don't have to dabble in day-trading to make it happen: a few long-term investments will traditionally pay off. As for the government, any expenditure is an investment: funding for the military (for our safety), for education (for our children) and infrastructure (for jobs and economy).
For more advice and further information on these tips, visit: http://www.ldloweplan.com.
About the Authors
Lloyd Lowe Sr. and Ethan Bonar work together at LD Lowe Sr. Wealth Advisory with offices in Dallas, Frisco, and Arlington, TX. Both are certified senior advisors and registered financial consultants, as well as coauthors of the book "Life's Bridges: Building Your Bridge to Financial Wealth."
About Brown Books Publishing Group:
Brown Books Publishing Group is a Texas-based, independent publisher providing manuscript development, editorial expertise, website design, cover design, fulfillment and distribution, as well as marketing and public relations. A referral-only publisher, Brown Books has ushered in A New Era in Publishing™ where authors who've chosen to retain the rights to their intellectual property are invited to participate in the publishing process from start to finish. Relationship publishing is the mainstay of Brown Books Publishing Group and its many imprints: The Small Press, Brown Christian Press, Brown Books Digital, and Personal Profiles. For more information about BBPG visit http://www.brownbooks.com or to schedule an appointment with the publisher, Milli Brown, please contact Rayven Williams at rayven(at)brownbooks(dot)com or 972-381-0009.
###