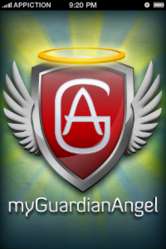 Call 911 with the push of one button while simultaneously sending a message to all of your emergency contacts including your GPS location...
(PRWEB) December 15, 2011
The new myGuardianAngel iPhone App from DS Apps LLC is about one thing…getting real time help when a person needs it the most. The real beauty of the app is it allows someone to contact their family and friends before a precarious event occurs while arming them with the information they need to get them help if their situation calls for it.
Set up the emergency contacts within the app, and then with a push of a button, the app sends an emergency alert, GPS location, and a link to audio and video streaming from the phone to all of the emergency contacts. The footage is available almost instantaneously.
A quick point of the phone camera can capture valuable evidence and simply speaking into the phone will update all of the emergency contacts about the situation or let them know all is OK. The emergency contacts can then come to the person's aid or call 911 depending on the urgency of the situation. The app also continues to record audio and video as well as track GPS location while help is on the way.
The "Stream Audio" feature sends a message to the emergency contacts telling them that "I might" be in a bad situation asking them to listen in to streaming audio from the phone just in case. The message includes GPS location and the app is hidden on the phone screen while recording. This is designed for a discreet situation such as a date, party or domestic violence situation.
Additional features give a person the ability to call 911 with the push of one button while simultaneously sending a message to all of their emergency contacts advising them of the call placed to 911 and the location of the incident. All audio & video files will be stored on our secure website with easy access.
No longer do people have to wonder if their loved ones are all right. The myGuardianAngel app gives them the assurance of feeling safe and also provides direct access to the people they love most. A person can rest assured that their loved ones have direct access to them when they might need it most. If a stranger approaches, if a date becomes too aggressive, if a person must walk alone to their car or if an abusive spouse becomes a threat the myGuardianAngel app may be able to help.
A portion of profits from the sale of the app will be donated to charities for the missing, abused, abducted or molested.
The myGuardianAngel iphone application was created by David Dyal, owner of DS Apps LLC. David has a passion for personal safety as is already working on additional features to enhance the myGuardianAngel app.
Contact: David Dyal – 830.370.2070
http://www.myguardianangelapp.com
###