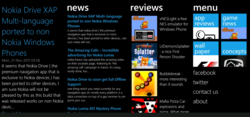 (PRWEB) December 13, 2011
Windows Phone Apps website 1800PocketPC and Windows Phone Games website BestWP7Games have combined their information and have updated their 1800PocketPC newsreader App with new features made for Windows Phone Mango and a complete redesign from the previous version. The new app features all the latest news from 1800PocketPC.com and all the reviews from BestWP7Games.com available for users to share.
1800PocketPC App features a newly redesigned Metro UI adopted by Microsoft for the new Windows Phone Platform. The older version's RSS feed and article links have been updated so users are now able to search for older posts found on the sites using the app to keep up-to-date on all of Windows Phone news, updates and issues.
New features on the upgraded app include App Reviews, Game Reviews, App Concepts, Wallpapers and more, available to be shared by users via social network sites like Facebook, Twitter and LinkedIn. Best of all, users don't have to share their passwords over the app anymore when sharing through social media sites thanks to the app's new use of its Windows Phone API.
The improved, clean design and functionality adds to the already existing features the app has always maintained such as unlockable achievements and the ability to post comments on the site all from the comfort of the app.
To download the free app or learn more about it, please visit the windows phone marketplace website.
About BestWP7Games.com
BestWP7Games.com was launched on August 13, 2010 just before Windows Phone was launched. The site's one goal is to provide a resource that everyone can go to for everything related to Windows Phone 7 Games. They cover everything from Xbox Live games to the indie games on Windows Phone. Website reviews include the reviewer's opinion of the game, video of the game play involved, screenshots of the game, and Xbox live achievement info on the platform. BestWP7Games.com also covers Windows Phone games news, information about upcoming sales and pricedrops for Windows games, and the weekly Deal of the Week for Xbox live games.
About 1800PocketPC.com
1800PocketPC.com was created in January 2008 for the purpose of listing the latest Windows Mobile Professional freewares but with the announcement of Windows Phone the site has now embraced the new platform and offer exclusive Windows Phone coverage ranging from news, review , tutorials , wallpapers and more
Contact:
Saijo George
(+61)433660466
admin(at)1800pocketpc(dot)com
###