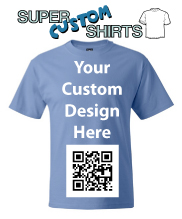 We sent the shirts out to over 1,500 customers and prospects and we received over 1,000 responses back.
San Diego, California (PRWEB) December 01, 2011
The Holiday season is approaching and successful companies are quickly making decisions on how to show their valuable customers some appreciation. It is no secret that the sluggish economy has made it more important than ever to ensure that your existing customer base will remain loyal. With the average cost of acquiring a new customer being roughly ten times more expensive than keeping an existing customer, smart business managers are finding fun and cost effective ways to reinforce those existing relationships. What will be this season's most effective customer appreciation gift? David Hall, CEO of SuperCustomShirts.com offers insights into how smart businesses are combining one of the years hottest trends, with a time tested and effective marketing mechanism. The result? Creative infographic t-shirts.
Infographics are a trend that had taken the internet by storm over the past year. A good infographic expresses information visually. When a company can explain their value proposition through images alone, that tends to be a very powerful message.
"The best customer appreciation campaign that I have ever done was to create some really great t-shirts and send them to every customer and prospect," says Paul Funchess, owner of Fun Factoring a business finance company. "What we did last year was to create a design that visually expressed our value proposition in a funny, artsy way. It was a huge hit. Nobody wants to wear a shirt that just has a company logo. A great t-shirt should make a statement while still being visually appealing. We sent the shirts out to over 1,500 customers and prospects and we received over 1,000 responses back. That was over 1,000 people calling and emailing to thank us and have a conversation with either a project manager or a sales rep. I call that a huge success."
Tips to making great infographic t-shirts:
The most important thing that your custom company t-shirt can express is your value offering visually. What do you do that makes your customers happy. That is what should be expressed visually in the t-shirt design. Do you have a unique solution to a problem. Do you have a unique process. Are you significantly different from your competitors. What do you want people to think of when they think of your company.
Next step is to combine the above, with something that will make it really stand out. Humor is always a favorite, but depends on the execution. Being witty is certainly an art form in and of itself. However, people do not like to be spoon-fed a punchline. It is often better to be clever rather an obvious. Other effective designs either make a bold statement or are part of a visually stunning design.
The final step is having the shirts printed and delivered. SuperCustomShirts.com offers excellent pricing and a very simple online design tool for uploading and ordering your custom t-shirts online. For help creating and refining a creative and effective t-shirt design, simply go to SuperCustomShirts.com and submit an inquiry on the contact form or call 619-500-MINE (6463).
Super Custom Shirts is a custom silk-screen printing and embroidery business in San Diego, California that has served Custom T-Shirts, Apparel and Accessories needs across the nation for over 35 years. For more information visit: SuperCustomShirts.com
###