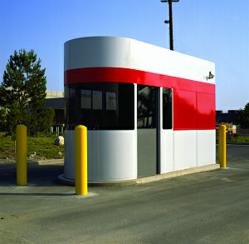 Los Angeles, CA. (PRWEB) December 20, 2011
Whether welcoming visitors to the Bronx Zoo or installing a guard booth to defend a thermonuclear facility against a terrorist threat, structures such as those built by B.I.G. Enterprises (http://www.bigbooth.com) define a facility's image. Following are 12 issue areas to be considered before a booth is designed—and recently delivered at the A.S.I.S. show by security expert Dave King.
1: What is the real purpose of the booth?
How do its occupants and visitors use the booth? What equipment is mounted in and on the booth?
2: What are the environmental impact considerations?
Determine how this structure impacts the world around it, so you can incorporate it seamlessly into its new environment.
3: What are the security considerations, both inside and outside?
Is the booth in a secure location? Is bullet resistance or radiation protection necessary?
4: What does the booth say about the company or facility it serves?
Ensure that the building fits into its architectural and historical surroundings, including any design regulations.
5: Is this environment conducive to work?
Consider the work done inside the booth. Operation affects the external access layout of booth. Ensure that the manufacturer understands ADA requirements.
6: How do you locate a booth manufacturer?
Sweets online architectural directories are a good place to find reputable firms.
7: Should you spec prefab or stationary construction?
Aside from 25% cost savings for prefab, have your CFO investigate tax advantages. Because many booths can be dismantled, relocated and reassembled, they are classified as "tangible property." Thus the purchase price can be depreciated over seven years, as opposed to conventional construction--"real property" with a 39-year depreciable life.
8: How accommodating and knowledgeable is the manufacturer?
Do you receive knowledgeable advice from an expert? Do they offer solutions that save money without sacrificing quality?
9: What do the manufacturers' current and past customers think?
Are their references varied and extensive? Can you visit their booths?
10: Can the manufacturer accommodate custom design?
Designing to fit the customer's needs depends on deep understanding of the product, materials and technology.
11: Does the manufacturer offer follow-through and a warranty?
Does the manufacturer guarantee their work? Will they be there to make adjustments after the installation?
12: From specs to P.O.s, does the manufacturer offer a guaranteed firm price for at least six months?
The manufacturer should offer firm pricing that is guaranteed for at least six months. All prices should include all necessary costs.
More Information about B.I.G. Enterprises:
For over 45 years, B.I.G. Enterprises, Inc. of South El Monte, CA has engineered and manufactured high quality prefabricated booths for the security and parking industry. Their large selection of preassembled buildings includes guardhouses, cashier booths, portable buildings, bus shelters and a variety of custom made kiosks.
Utilizing a proprietary "Critical Span" manufacturing technique that increases convenience and strength in prefabricated structures, the B.I.G. team has booths protecting our nation's capital, nuclear power plants, international airports, colleges, universities and corporate offices.
# # #