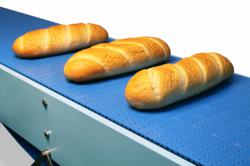 Everything went well and is much easier for our workers.
Muskegon, Michigan (PRWEB) December 13, 2011
From small Mom & Pop bakeries to large food processing facilities, conveyors are part of the landscape in the food industry. Dynamic Conveyor Corp, pioneer in sustainable conveyor technology, has been providing industry with green technology, before the green movement became vogue, with its DynaCon Modular Conveyor systems and newest line of DynaClean custom food conveyor systems.
Sustainability covers a wide range of concepts including preserving human and natural resources; and, according to the EPA, "sustainability creates and maintains the conditions under which humans and nature can exist in productive harmony, that permit fulfilling the social, economic and other requirements of present and future generations."
When companies employ reconfigurable conveyor technology, they contribute to the overall reduction of carbon emissions by reusing, reconfiguring and repurposing rather than adding to equipment bone yards; and by reconfiguring custom food conveyor systems, they reduce capital expenditures.
Many of today's quality food producers understand that preserving the human component in their production process is vital when it comes to the bottom line. Ensuring that production lines are as ergonomic as possible not only reduces the possibility of injury, but also enhances worker satisfaction which translates into higher production.
This was true for Carl Roma when he searched for food grade conveyors to improve ergonomics in his family owned and operated Jim Roma's Bakery and Restaurant that has been producing and distributing rolls, breads, pizza, and pastries to supermarkets, restaurants and delis since 1948.
The bakery produces 2000 loaves of bread per week and had just put into operation a new bread molding machine that receives dough from a dough cutting machine. The dough cutting machine was already on blocks to accommodate the varied heights between the two machines, and when the new molding machine arrived, the difference in height increased making production more complicated.
"Instead of raising the equipment again, we decided to look into food grade conveyors, and found Dynamic Conveyor," says Roma.
Custom food conveyor systems manufactured by Dynamic Conveyor are easy to clean, maintenance free, have energy efficient hygienic motors ideal for food applications, and the DynaClean custom food conveyor systems line is custom designed and built to meet NSF, FDA, USDA and BISCC standards.
"I told them what I was using it for and their rep took it from there. He sent us some specs and drawings customized to our system and it looked good," says Roma.
When the food grade conveyor arrived, Roma realized the incline needed to be a little higher, so an additional module shipped out within 24 hours and Roma says, "everything went well."
"When you are buying a piece of equipment and you are just looking at a picture you are kind of skeptical--hoping it works, but Dynamic Conveyor was really helpful and it worked out," says Roma. "It doesn't take up any more space that we were using before and it is much easier for our workers.
For more information about DynaClean custom food conveyor systems and reconfigurable conveyor technology, contact Dynamic Conveyor Corporation, 5980 Grand Haven Road, Muskegon, MI 49441; phone (800) 640-6850; fax (231) 798-9583; or visit the web site http://www.dynamicconveyor.com.
###