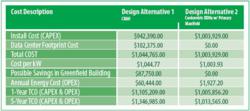 "An increase in the cost of energy, which is likely, should drive data center customers to consider liquid cooling as the ultimate data center cooling solution because of its lower energy consumption."
Marlbough, MA (PRWEB) December 08, 2011
The increasing demand for energy conservation and the continued growth requirements of data center cooling reinforces the need to find ways to reduce energy consumption and at the same time realize cost savings. This new white paper from Coolcentric, in collaboration with Nova Corporation and McSweeney Engineering discusses data center CAPEX and OPEX costs for water cooling compared to traditional CRAH air cooling.
The paper compares the traditional CRAH air cooling method utilizing chilled water, to passive Rear Door Heat Exchanger (RDHx) solutions. The study concludes that in terms of CAPEX, the RDHx cooling is roughly equivalent to CRAH cooling at approximately 5kW per rack power dissipation. However, OPEX for RDHx cooling is better at reducing today's energy costs. Looing to the future and the expectation that energy costs will continue to rise, OPEX savings from an RDHx cooling solution are likely to be even more significant.
Guidelines by ASHRAE have led to the practice of raising supply air temperatures in conjunction with the cold aisle – hot aisle arrangement. These high-supply air temperatures can range from the high 60 degrees F to the high 70 degrees F or more. While the increase in supply air temperature has had a positive impact on energy efficiency, the corresponding rise in air temperature in the hot aisle of 20°F to 30°F above the cold aisle air temperatures does not eliminate the significant amount of energy needed to run the air-movers and creates difficulties for service personnel who work in the hot aisles. Additionally, the elevated hot and cold aisle air temperatures create thermal management design complexities because of a decrease in the cooling margins. As a result, precise placement of the IT racks and better containment is required for proper cooling distribution.
As discussed in other white papers, rack-based cooling is an effective, energy efficient alternative to air- based systems as a way to provide cooling to high densities loads. The question has yet to be asked, "When does it become cost effective, for both construction costs and energy usage, to deliver a rack based liquid cooling solution?"
About Coolcentric
Coolcentric® delivers the world's most energy and space-efficient cooling solutions for reducing data center costs. Coolcentric's products for rack-level cooling, combined with services for integration, deployment and sustainability of data center thermal solutions, allow customers to optimize their data centers for maximum performance and return on investment.
Coolcentric's patented products enable data center owners and operators to eliminate hot spots, dramatically reduce energy consumption, improve space and power utilization, and reduce capital and operating expense. For additional information, contact Coolcentric at +1. 508.203.4690 or visit http://www.coolcentric.com.
###