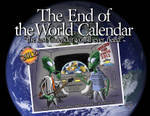 Chandler, Arizona (PRWEB) December 14, 2011
Is doomsday really coming on December 21, 2012? Even though ancient Mayans prophesied otherwise, two life-long friends are having fun with the apocalypse theme and created a new product called "The End of the World Calendar, the last Calendar you'll ever need!" The best part, partial proceeds benefit a worthy cause decided by voters on our website at http://www.endoftheworldcalendar.net! Whether it's the United Way, Green Peace or Muscular Dystrophy, True Believers wants to help a worthy cause.
Whether by Alien Invasion or Nuclear War, the humorous and original 2012 sixteen month wall-calendar makes fun at possible end of the world scenarios. It also touches on current problems plaguing the planet like global warming, oil spills to greed on Wall Street. Whether man-made or natural disasters, the calendar takes a lighthearted look at mankind's potential downfall. It's cool, creative and thought provoking!
The calendar is the first venture for True Believers, a novelty company started by two average guys, who in a down economy took a giant leap of faith, and want to help others. It's the perfect stocking stuffer, gag gift, birthday present or conversation piece for any office. "The End of the World Calendar, the last Calendar you'll ever need!" is the perfect holiday story that helps give back and might change some mindsets along the way.
Want to know more? Call Joe Pequeno at 602-510-0003 or by email at truebelievers(at)yahoo(dot)com.
###