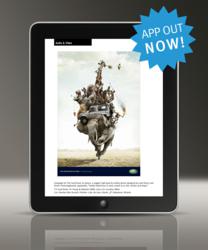 (PRWEB UK) 2 December 2011
To help advertisers get the most out of their creativity, Lürzer's Archive is constantly seeking to inspire by developing not only its content but also the channels it comes through. With this aim in mind, they have just released the brand new Lürzer's Archive iPad App, designed and developed by Mind Treat Studios.
 
This launch means Lürzer's Archive has now completed their range of Digital Services, which are designed to keep on showcasing the very best of advertising not only in the magazine, on the website and on the iPhone but now also on the iPad.
 
They shall be bringing more than 160 issues of pure creativity, featuring more than 50,000 outstanding print campaigns and over 8,000 full-screen spots in first-rate HD quality, to the iPad, making this new app the ultimate in sheer ad-loving indulgence.
The most amazing thing about this, however, is the price: the app is completely free. And for just €99 a year users are also able to access the Digital Archive from your desktop, iPhone app and iPad app. What is more, they offer a full issue free within the app. The app can be downloaded at the iTunes Store or on the Lürzer's Archive website http://www.luerzersarchive.com
# # #