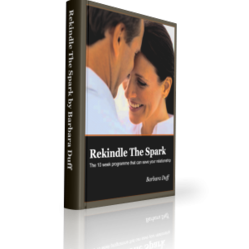 "The key to improving your relationship lies within yourself. Small changes in behaviour and attitude make a big difference to the dynamic between you.

Once you know the techniques required, you too can Rekindle the Spark and Save Your Marriage!"
(PRWEB) December 12, 2011
The launch of the "Rekindle the Spark – Save your Marriage" program brings a new approach to solving relationship problems. The program, developed by Barbara Duff, a relationship and psychosexual therapist with over 20 years of marriage counseling experience, allows couples to work on their issues at their own pace and in the privacy of their own home.
"After years of working as a relationship therapist, I realised that for many couples marriage counseling sessions may not be the best option," says Barbara, "Some couples seeking help from a counselor feel disempowered. They think that they are no longer in charge of their relationship and can become over-reliant on the marriage counselor."
Attending regular counseling sessions can also be a challenge to couples with hectic schedules or baby-sitter problems. With Rekindle the Spark – Save Your Marriage program, they can work on their relationship issues in their own time and in the privacy of their own home.
Rather than just dishing out relationship advice, the program includes case studies and practical exercises designed to bring about positive changes in the relationship.
"In this program people are helped to identify the triggers which cause problems in their relationship and then learn new skills to deal with them. Each step of the program helps them develop greater confidence that they can resolve their relationship problems.
Working together on specific issues helps couples see the problem from each other's perspective and re-create the bond they once had. They become members of the same team rather than two opposing parties expecting a marriage counselor to wave a magic wand and change the dynamics of their relationship for them."
The program is divided into ten stages, each focusing on a key area of the relationship. From getting to know their own values and priorities, to sharing the workload and exploring their attitudes to sex, the program addresses the areas which are the most common sources of conflict in a relationship.
According to Barbara, the Rekindle the Spark – Save your Marriage program is effective even if only one person participates. In her experience, once one partner starts on the program, the other partner usually gets curious and joins in. "But even if that does not happen," she adds, "once your attitudes and behaviour start to change, it has a positive knock-on effect on your partner. I call it the power of one!"
In addition to the Rekindle the Spark - Save your Marriage program, the package also includes a 10 week access to the Relationships and Love Membership site and three other valuable bonuses.
Membership of Relationship and Love offers program subscribers additional support in a private, secure, members-only relationship forum; gives them access to case studies, articles and videos on relationship-related subjects and entitles them to participate in webinars and workshops specifically designed to further improve and strengthen their relationship.
At $79 (Special Launch Price), Rekindle the Spark – Save your Marriage program represents great value for money. "It costs less than one marriage counseling session, and certainly much less than separation or divorce!" – says Barbara. The program comes with a 30 day 100% money back guarantee, so purchasing it is completely risk-free.
For further information on "Rekindle the Spark – Save your Marriage" program, visit the websites http://www.rekindlethespark.org and http://www.relationshipsandlove.org
ABOUT BARBARA DUFF and RELATIONSHIPS AND LOVE
Barbara Duff, B.A., H. Dip in Ed., is an experienced marriage and psychosexual counselor, accredited with N.A.P.C.P., the National Association for Pastoral Counseling and Psychotherapy. She has lived in Ireland, the U.S. and the UK and has worked as both teacher and therapist for over 20 years. Barbara is also the author of many articles on relationship issues.
For more information contact Barbara Duff - askbarbara(at)relationshipsandlove(dot)org ; phone: +1 832 6990353 ; TOLL FREE 1-800-571-4548 or visit the websites http://www.rekindlethespark.org and http://www.relationshipsandlove.org
###