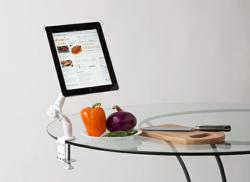 spiderArm is the only iPad stand solution that allows for temporary or permanent mounting in multiple locations
(PRWEB) December 02, 2011
spiderArm Ltd, a breakout new iPad accessory manufacturer is announcing the new spiderArm™- a complete iPad® system now available for immediate shipment worldwide. Includes everything to position your iPad exactly where it is needed most.
"The spiderArm offers versatile hands free support with 360 degree radial adjustment," said Tim Henderson spiderArm Inventor. "You can use 1, 2 or 3 arms for perfect positioning and ergonomic comfort… great for movies, video calls and gaming."
Tim conceived the spiderArm™ seeking an easy way to adjust his iPad® for reading in bed. He connects all three Arms for maximum extension and adjustability. Tim added, "spiderArm is the only iPad stand solution that allows for temporary or permanent mounting in multiple locations. Two base options offer c-clamp, surface, under the cabinet and wall mount solutions."
There's a detailed user guide available online at- http://www.spiderArm.com/user-guide/
Three articulating arms with 270 degree joints freely adjust to any angle and height. The spiderArm™ features engineered construction for commercial, professional and home use. Rugged with a quality finish, polycarbonate joints in piano key white and soft anodized finished aluminum tubes.
Tim's enthusiasm for spiderArm radiates as he explains… "We have found so many uses- all the iPad® stand possibilities are in one box. SpiderArm moves with you at home in the den, living room, kitchen counter or nightstand. Tested at work for the office desk, trade show display, shipping bench and manufacturing. In addition, the spiderArm excels for education at school- excellent for classrooms, labs and music studios."
Tim suggested, "spiderArm™ at mealtime, I whip up my favorite recipes with the iPad® in the kitchen. Combine the C-Clamp Base with the shortest Arm for handy access above the spills and splashes. It offers sturdy-adjustable support for all your cooking, emailing and online research."
Looking close there are some innovative features of this Patented Design, where Tim's years of production and development experience stand out.
The "secureSnap™ case" is unique among iPad® accessories, click the four corners down with a snap to secure your iPad 2. The connecting shortArm features a ball joint connection with a smaller adjustment knob that allows secure positioning at any angle.
The "C-Clamp feature" securely screws a temporary mount to any surface. Padded to protect furniture, table and bench tops and headboards. Remove the base of the C-Clamp it is now an excellent Wall Mount bracket as well.
An important addition to this system is Tim's "surfaceMount™ 2-way base" for permanent placements. It securely screw mounts tabletop or under the cabinet for quick access offering 360° radial adjustment.
For more information, visit http://www.spiderArm.com
Hi-resolution photos and digital media upon request.
Interviews, promotional and evaluation samples available.
About spiderArm Ltd
spiderArm Ltd Established to offer leading designs in iPad® accessories
Providing the best in quality, function & innovation
iPad® is a trademark of Apple, Inc., registered in the U.S. and other countries
# # #