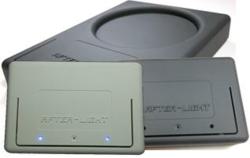 It's a perfect light for us. We have one in every room in the house.
Boise, ID (PRWEB) December 06, 2011
Tired of trying to navigate in darkness to avoid waking a spouse or running into bedposts? Do the kids really need a night-light in their room that is illuminated all night long? Blue Wolf, Inc. has developed a solution to these common issues called the After-Light. After-Light™ (http://www.buyafterlight.com) is the cost and energy saving wireless solution. This dual power-mode light is versatile in that it can either be activated with the touch of a button or by using its dark activated sensor to automatically turn on when the lights go off.
Stumbling through a dark house when the power is out or late at night when you turn off the lights can be very frustrating. Whether it's getting up in the middle of the night for a drink of water, navigating towards a breaker box or calming the fears of a small child, After-Light™ is the most resourceful home product for every occasion. No more concerns about struggling with or tripping over a power cord or worrying about where to find a convenient electrical outlet. When dealing with seasonal power outages, After-Light™ is the safest choice to replace exposed lit candles that can easily tip causing serious damage. Designed by Blue Wolf Inc., After-Light™ is the most unique, easily user-set, battery-operated personal light on the market today.
With the touch of a button or sensor activated to dark, After-Light™ illuminates a soft blue eco-friendly LED glow that gradually dims to off or can be preset to stay lit longer with just a few taps increasing the lighted time at 15 second increments, for up to 5 minutes!
After-Light™ comes in two sizes: Black Coaster (5.75" x 4" x .75") and Black or White Mobile Mini (2.75" x 4") which is perfect for home and so lightweight and portable, great for business and travel. After-Light™ is completely battery-powered with standard triple AAA batteries. After-Light™ is great for gifts, children's rooms, dark hallways, bedrooms, senior safety, hotels, in-laws houses, camping and emergency kits. After-Light™ gives peace of mind no matter where it's taken.
Don't be left in the dark, get After-Light™ (http://www.buyafterlight.com).
###