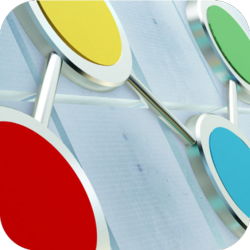 Visit the "Mental Gym" with LinkDots
Madrid, Spain (PRWEB) December 15, 2011
Yumiwi introduces LinkDots, their new gaming title for iPhone, iPad and Android.
Set aside some time to visit the "mental gym." Improve in important areas such as:
-Rapid learning
-Speed
-Focus
-Memory
-Logical Thinking
-Creativity
The aim of the game is to place your dots on the board, in a way to create as many links as possible within them. Make as many figures as possible to score more points and win the game.
LinkDots is a great new type of game that features strategic, fast-paced gameplay for groups or solo play, they have a near-perfect app on their hands."
-Dancemonkey
The mind will never rest on such an addictive deployment of shapes and strategies, while blocking the opponent's efforts to win. LinkDots allows up to 4 players at once and up to 10 different backgrounds to choose from. Just pick opponents, friends or machines on the same board. Connecting dots has never been so fun.
"I've played several rounds of LinkDots on the iPhone and I'm really enjoying it!
You must strike the perfect balance between playing offensively and defensively."
-TiPb
It is not tic tac toe, connect four or Minesweeper, the old time classic games that have granted such great moments. LinkDots goes further than that. Earn points depending on the complexity of the figures. Publish scores in social networks, Openfeint and challenge friends.
LinkDots has no age. It is stimulating logical and fun for everyone. A mental challenge, perfect for any place and time, play alone or with other players, excitement guaranteed.
Pricing and Availability:
LinkDots for iPhone and iPad is only $0.99 USD (or equivalent amount in other currencies) and available worldwide exclusively through the App Store in the Games category and through the Android Market in the puzzle and games for mind category.
LinkDots:
http://www.linkdotsapp.com
Purchase and Download:
LinkDots for iPhone:
http://itunes.apple.com/us/app/linkdots/id469911041?mt=8
LinkDotsXL for iPad
http://itunes.apple.com/ru/app/linkdotsxl/id472613694?mt=8
LinkDots for Android:
https://market.android.com/details?id=com.linkdotpro
Yumiwi SL is a company established in 2009 that has developed online digital projects, social networking and other online applications for business use. It is now starting as a developer of mobile applications. Copyright (C) 2011 Yumiwi SL. All Rights Reserved. Apple, the Apple logo, iPhone, iPod and iPad are registered trademarks of Apple Inc. in the U.S. and/or other countries.
# # #