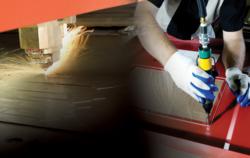 It's clear that British manufacturing really does mean best!
Brackley, Northamptonshire (PRWEB UK) 7 December 2011
Over the past two decades the UK has seen many of its businesses re-locate their manufacturing abroad to save costs and increase capacity. Although this has helped many companies to thrive during the 1990's and early 2000's, in recent years the lack of manufacturing work has heavily increased unemployment and has added to the poor economic climate.
However, with the threat of another recession looming ever closer, the news that UK manufacturing looks to be on the rise again couldn't have come at a better time. Recent reports published by the HSBC Group show that over the course of the next decade, companies within the energy, healthcare and creative manufacturing industries (amongst overs) will move much of their manufacturing back to the UK as 75% of UK business leaders demonstrate their support for British production.
One such company that has put their faith firmly in UK manufacturing is Europe's leading garage storage manufacturers, Dura. Over the last decade, Dura have invested heavily in UK manufacturing and have now started to reap the benefits that producing locally can provide. Such is Dura's confidence in UK production that their complete range of garage storage equipment and workshop furniture is produced solely at their factory in Plymouth.
Because of the success that the Dura range has achieved, they are now the approved workshop furniture suppliers for many of the world's leading car manufacturers including Aston Martin and Audi. Although UK manufacturing has helped Dura into the position they now see themselves in, they are not the only company to increase production in what seems to be troubling times.
This feeling of a resurgence in British manufacturing has been reinforced by a growth in car manufacturing over recent months and by the UK governments support of manufacturing through the 'Make it in Great Britain' campaign. This campaign aims to transform outdated views of UK manufacturing and dispel a perceived myth that Britain no longer makes anything and fails to make money from UK manufacturing.
With UK innovation and quality continuing to lead the way, it's clear that British manufacturing really does mean best. As UK companies begin to understand this and the benefits that UK production can bring, let's hope that this resurgence continues to gather momentum and many more UK businesses take the lead from companies like Dura.
###