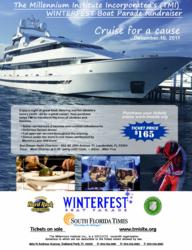 TMI is hosting its inaugural fundraiser as a part of the Winterfest Boat Parade on Dec. 10. Support the effort by attending the fundraiser. To purchase tickets, learn more about Millennium or to make a donation, please visit www.tmisite.org.
Ft. Lauderdale, Florida (PRWEB) December 04, 2011
The Millennium Institute, a new non-profit organization that has as its tag line, Building Capacity, Empowering Communities, Transforming Lives, is hosting its first fundraiser. The event takes place on Saturday, Dec. 10 and is a part of the hugely popular WINTERFEST Boat Parade. WINTERFEST is a nationally televised parade of decorated boats that attracts thousands of participants, including celebrities and sports stars.
The Millennium Institute is participating in the event to raise funds to create programming to address stubborn issues affecting families in Broward County. Issues like generational poverty and low academic achievement are the focus of programs like a wealth-building course that will connect families to services and resources. A parental involvement program will help equip parents with the information they need to be active participants in their children's education, said interim executive director, Danielle Guerin.
"An interactive dance/parenting class introduces parents and their babies to countries and cultures from around the globe, expanding their outlook on life," explained Guerin, adding, "our programming is innovative and creative."
Guerin, a veteran in the social services arena said, "We're looking to truly transform lives, not merely put a band-aid on a family's issues and have the family to return to the system when a new problem comes up."
In addition to seeking out grants and other funding, The Millennium Institute is hosting its inaugural fundraiser, Cruise for a Cause, on Saturday, December 10, 2011.
The tickets are only $165 and include an open bar, butler-served hors d'oeuvres, live music and a formal dinner aboard a luxury yacht. For more information on The Millennium Institute or to purchase tickets, please visit http://www.tmisite.org.
###