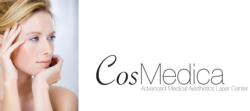 Pelleve plumps and tightens the skin, which reduces wrinkles instantly and makes the skin appear more refreshed.
Wakefield, MA (PRWEB) December 01, 2011
The holidays are a time of gatherings, parties, reunions. Women typically want to look their best for these special occasions. Esthetician Ellen Miller of CosMedica of Wakefield, Massachusetts, says that there are simple ways to look your best to make your skin glow just in time for your special holiday parties.
"There are long-term and short-term benefits to spa treatments," said Miller. "Most clients want the long-term results but there is certainly no harm in giving Mother Nature a little help to look instantly better for a holiday party!"
Here Miller shares three treatments to consider that instantly help you to put your best face forward at your upcoming holiday parties:
Pelleve. This is a revolutionary non-surgical procedure done by a licensed esthetician to safely treat facial wrinkles with virtually no pain and little downtime. Pelleve plumps and tightens the skin, which reduces wrinkles instantly and makes the skin appear more refreshed. The results last for two-to-three days so make your appointment just a day or two before your event. A series of these treatments works well for longer-lasting results but for a quick fix for a holiday event, one treatment is a great choice.
Chemical Peels. While the word "chemical" may sound scary, these treatments aren't anything to be afraid of. The results of a chemical peel are longer-lasting and leave the skin appearing dewy, soft and extremely smooth. It is important to do a chemical peel two weeks before an event because the skin will peel for about one week. Peeling can be controlled with moisturizer but the full results will be most noticeable two weeks after the treatment.
Teeth Whitening. Teeth whitening can take years off your smile and help you enter a holiday party with renewed confidence. Drug stores offer kits to use at home. For greater and faster results that remove surface stains and stains found deep inside the teeth, find an esthetician or dentist who offers this service in their practice.
"Women sometimes use too much makeup for a holiday party thinking that it makes them look festive," said Miller. "Really, looking great starts with great skin and a great smile which can then be enhanced with makeup so simple treatments like these can be tremendously helpful for instant beauty boosts."
About Ellen Miller:
Ellen Miller is one of the longest practicing aesthetic laser technicians, not only in Massachusetts, but nationwide. She opened CosMedia in 2001 in Wakefield, MA and became its sole-owner in 2009. The spa is best-known for helping women regain healthy, youthful looking skin and providing solutions for unwanted hair, spider veins, age spots and aging skin. In recognition of her extensive experience with lasers, she is a national trainer for Cynosure Laser. For more information, please visit http://cos-medica.com.
###