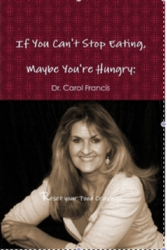 Hypnosis is a powerful tool that helps with lossing weight and controlling eating binges.
Los Angeles, CA (PRWEB) December 19, 2011
Dr. Carol Francis Announces New Video Release from Televisions' Spotlight on Torrance
TV excerpt interview with Dr. Carol Francis regarding Hypnosis.
Hypnosis harnesses the power of the mind, emotions, will-power and beliefs to enable people to overcome bad habits or create good habits. During a television interview on Spotlight on Torrance, Dr. Carol Francis discusses these tools of hypnosis.
How do people manage stress during holidays or their urges to over-eat? How do smokers who wish to stop smoking during family visits faces succeed quickly? Research in hypnotherapy and clinical experience suggests that for many, hypnosis might be an effective tool for the holidays.
"During these holidays, people are wanting help to control their eating or over-eating or binges so they do not have to face losing weight after New Years. People also will be wanting tools to help them with their New Year's resolutions; and hypnosis is an ideal tool," states Dr. Carol Francis.
"Every day, we hypnotize ourselves with either positive or negative statements. We might as well help ourselves accomplish our goals by using hypnosis to help us stop over-eating, stop smoking, stop feeling nervous in crowds or whatever our goals are," clarifies Dr. Carol Francis.
Hostess Alexa Sita becomes a willing subject of hypnotherapy to demonstrate how hypnosis can be used to reduce stress on television show "Spotlight on Torrance." On Spotlight Torrance, Dr. Carol Francis discusses these benefits of hypnotherapy and provides an example of how easily hypnosis can be experienced.
Dr. Carol Francis also discusses these tools in her book, "If You Can't Stop Eating, Maybe You're Hungry: Reset Your Cravings."
DrCarolFrancis.com, BodyMindSculpting.com
###