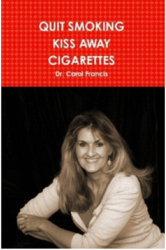 Taking charge of your life and health is invigorating although sometimes tough.
Los Angeles, CA (PRWEB) December 04, 2011
No one wants to die from cancer. Yet, one of the leading causes of death from cancer, smoking, is well within people's abilities to stop. "Research is clear, people can take charge of their life and reduce the likelihood that they will suffer from cancer, heart disease, pulmonary disorders or other disorders by merely stopping their habit of smoking," explains Psychologist Dr. Carol Francis.
Insurance companies which are now proposing to increase the cost of coverage for smokers may motivate more individuals to stop their habit of reaching for their cigarettes thoughout their day. WalMart is one company spearheading this attempt to charge employees who smoke more for their insurance coverage. Whether medical insurance should do this or not is not as relevant as whether individuals can take charge of their health and stop smoking.
Dr. Carol Francis, author of "KISS Away Those Cigarettes" also has offered video assistance which allows people who want to stop smoking to use their ability to be hypnotized to motivate them to quit smoking now.
"Our minds are powerful enough to make us embrace habits that are bad for our health. Our minds are also powerful enough to help us embrace those patterns that will make it easier for our bodies to be healthy and live longer," explains Dr. Carol Francis.
Are insurance companies providing those tools which will help smokers become free of their physical and emotional addictions? Likely they should. Smokers can not blame insurance companies however.
For over 6 years, smokers all over the world have quit by using Dr. Carol Francis' videos posted on YouTube. "These videos help some to quit immediately and other's to begin to stop smoking by gradually reducing their attachment to the physical and emotional reasons to smoke. My goal is to help, freely and easily. We all need to invest in the health of each other without judgement and with practical tools. Perhaps insurance companies charging more for smoking will help smokers reach out for helpful tools, such as my book and videos. I wish the insurance companies would provide such tools, but at least these are available to help smokers be able to change their life and improve their health status."
Dr. Carol Francis, as a Clinical Psychologist and Hypnotherapist, has been helping individuals harness their powers to live life in a state of health for over 32 years.
DrCarolFrancis.com, BodyMindSculpting.com, YouTube.com/DrCarolFrancis
###