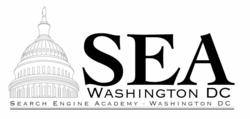 Do your SEO right by getting the most up to date SEO knowledge and skills quickly, so you can turn around and put them to good use right away
Washington DC (PRWEB) December 01, 2011
Search Engine Academy Washington DC (SEA DC) offers two, three and five day SEO courses, as well as customized SEO training classes ranging from one to three days for companies and businesses in the Washington DC area. Nancy E. Wigal, the owner and operator asks business owners to make a New Year's resolution for their websites by learning how to do SEO in 2012 to improve their web page search results.
"Make a completely different New Year's resolution for 2012 by taking one of Search Engine Academy's SEO courses and getting improved search results. Doing SEO for your site will send more targeted traffic to your web pages for better conversions."
According to Nancy, a business website is a tool just like the computers, phones or vehicles. It should contribute positively to the company's bottom line by attracting prospects and converting them to customers.A business website can do this most effectively by being optimized to rank high in search results for selected keyword phrases the target market uses to find business solutions online.
SEO training classes are regularly scheduled each month, as well as taught on demand. Search Engine Academy has 2012 SEO courses scheduled for the weeks of January 23, February 13 and March 12.
Search Engine Academy Washington DC has training locations in MD, DC and northern VA. SEA DC also goes to the business or company location to train on demand.
All SEO training classes are taught face to face in a classroom environment, combining lecture with hands-on practice exercises and group discussions. All course materials are provided by Search Engine Academy. Attendees need to bring an internet-ready laptop to training.
Among the SEO subjects attendees learn includes keyword research, blogging, writing web content, pay per click advertising, optimization techniques, local and mobile search, social media and SEO for videos.
Students who successfully complete any two, three or five day SEO training course is also certified in SEO and receives six months' SEO mentoring at no extra cost.
According to Nancy, any business or company with a website that is not showing up on high in search results can apply the SEO skills and knowledge to boost web pages ranking and indexing with the search engines.
"It takes time to get better search engine results. Do your SEO right by getting the most up to date SEO knowledge and skills quickly, so you can turn around and put them to good use right away," said Nancy.
Search Engine Academy Washington DC is part of the Search Engine Academy, created by Robin Nobles and John Alexander. Search Engine Academy shows anyone with an under-performing website how to do SEO in various locations in the U.S, Canada, Australia and Malaysia.
###