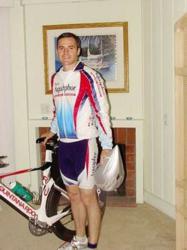 (PRWEB) December 05, 2011
Dave Lamoureux is always up for a challenge. As a sales rep for United Home Experts, Dave has sold more fiber cement siding in Boston than anyone. As an athlete, Dave has achieved the ultimate goal by completing the Ironman Hawaii triathlon.
As a competitor in Ironman Lake Placid in July, Dave finished first in his division of males aged 30-34 and 12th overall. Completing the race with a time of 9:36:11, not too far off from the fastest time of 8:25:15, Dave proved he was good enough to qualify for the Ironman Triathlon in Hawaii, which took place in October.
Dave trained several hours a day in preparation for the Hawaii race. "You have to push yourself hard in this sport," says Dave, "but you can't push too hard. I was focused in Lake Placid and it paid off with a good overall effort."
Dave got into both house painting in Boston and marathon running while in college at Bentley University. While one led him to his job working for a contractor in Massachusetts, the other would lead him to the Ironman.
"My running has really improved the last three years," says Dave. "The run is where you can pass a lot of people in a triathlon. It comes at the time of day when people start to get worn down and fade."
When Dave isn't pushing himself physically, he's part of a great team at United Home Experts, who have been providing quality home services, including siding, roofing, windows and painting in Massachusetts, Rhode Island and Southern New Hampshire for thirteen years.
About United Home Experts:
Committed to excellent workmanship and customer follow-up, United Home Experts has built a reputation of providing outstanding and enthusiastic service to both homeowners and construction professionals at fair prices.
For more information, visit: UnitedHomeExperts.com.
###