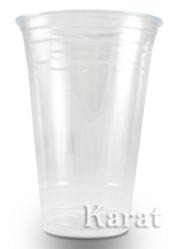 The 20oz PET cups can be purchased for as low as $85/case, while the 24oz cups are on sale for just $76/case.
City of Industry, CA (PRWEB) December 01, 2011
This December, CupDepot.com is helping loyal customers maximize savings when shopping online. Be sure to stock up on feature offerings by the end of 2011, such as Karat® Insulated Paper Hot Cups, Karat® Cup Jackets, and custom printing service, in order to save more for 2012. CupDepot.com strives to be the industry leader of paper and plastic cups, with new solutions and multi-case discounts that meet customer and industry needs.
For the upcoming holiday season, CupDepot.com is spotlighting the new Karat® Insulated Paper Hot Cups. Designed with a double wall, the Karat® Insulated Paper Hot Cups provide better heat insulation and keep beverages hot for reasonable periods of time; there is no need for double cupping or using a sleeve anymore. The exterior layer could also insulate hot liquid in order to keep it from burning the hands of customers. Available in stock print designs, these dual layer cups work perfect for take-out hot beverages. The 12oz Karat® Insulated Paper Hot Cup is available now at CupDepot.com for as low as $68/case, with the 8oz ($64/case) and 16oz ($72/case) sizes coming soon.
The monthly savings continue as CupDepot.com features its excellent custom printing service. For a limited time, Custom Print Beverage Napkins have a minimum order of 15 cases. Customers can choose up to 2 colors for customized print 10" x 10" 2 ply white napkins. At a promotional price of $36.50/case, these professional Custom Print Beverage Napkins are ideal for virtually any hospitality-related business; they are effective at building brand awareness and catching customer attention. Furthermore, CupDepot.com conveniently provides custom printing service for cup jackets and paper food containers with competitive pricing. Please inquire online for more details.
Keeping customers' needs in mind, CupDepot.com is making a mark this holiday season by slashing prices on Karat® Cup Jackets. Not only are the cup sleeves environmentally friendly, they also feature a tulip design that tightly hugs 10oz to 24oz paper hot cups. Available in eye catching designs, such as Aroma II, Cheerful Green, Ebony, Ivory, and Natural Kraft, these premium cup jackets will provide restaurants and cafés with the finest quality at the best value. Pricing for these Karat® Cup Jackets starts at $38/case.
During the month of December, the food service industry can benefit greatly from CupDepot.com's latest offer. CupDepot.com continues to take care of loyal customers by constantly offering multi-case discounts on featured Karat® items. Customers will receive $100 off purchases of $1,100 or more by using coupon code "100REASONS". Karat® Paper Hot Cups, Karat® Napkins, Karat® Earth Eco-Friendly Compostable Bamboo Fiber Tableware, and Karat® Earth Eco-Friendly Paper Food Containers will all be marked down with multi-case discounts. In addition, the Karat® Clear Plastic PET Cups are also joining the price slash bandwagon. The 20oz PET cups can be purchased for as low as $85/case, while the 24oz cups are on sale for just $76/case. Last but not least, CupDepot.com is dedicated to make customers online shopping experiences faster, easier and cheaper, as well as bring more creative solutions to the market.
About CupDepot.com
Headquartered in City of Industry, CupDepot.com is a reputable manufacturer and supplier of affordable food & beverage industry supplies, such as yogurt paper cups. CupDepot.com is a subsidiary of Lollicup.com, a premier coffee & tea chain and industry supplier. For more information, please visit CupDepot.com.
###