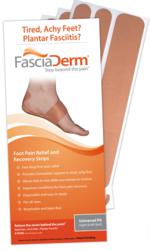 FasciaDerm® is effective in treating acute and chronic plantar fasciitis as an adjunct to custom orthotics.
Houston, TX (PRWEB) December 02, 2011
Medical device innovator Applied BioKinetics LLC, announces a breakthrough in the treatment of heel pain caused by plantar fasciitis (i.e. heel spur syndrome). Plantar fasciitis is a painful condition where small tears in the tough connective tissue which runs along the bottom of the foot (i.e. the plantar fascia) have occurred, as a result of excessive or repetitive stress. The condition is most often indicated by sharp heel pain during the first few steps in the morning or after periods of rest. Many cases of plantar fasciitis linger for six months or more, despite current treatment methods.
Applied BioKinetics' flagship product, FasciaDerm® Brand Pain Relief and Recovery Strips, feature a micro-thin, disposable and adhesively applied support layer designed to directly support the foot and manage foot strain, thus allowing the user to remain active. FasciaDerm®'s advanced materials and adhesive technologies have been optimized specifically for managing stress in the plantar fascia. Managing foot strain through the entire gait cycle, in a consistent manner, improves conditions favorable to natural and lasting recovery from heel pain.
Dr. Daryl Caneva of Caneva Foot Clinic in Joliet, Illinois concluded, "FasciaDerm® is effective in the treatment of acute and chronic plantar fasciitis as an adjunct to custom orthotics." The clinic reports high end-user satisfaction and has incorporated FasciaDerm® into their standard of care.
Whether applied in a clinic setting or self-applied at home, FasciaDerm® is perfect for those who have struggled for weeks or months with other approaches including: night-time stretching devices, plantar taping methods and cortisone injections. FasciaDerm® is often used for foot pain prevention, but when used as directed during a plantar fasciitis flare up, it provides effective foot-pain relief benefits within days of consistent use. Many report lasting pain relief within 1-2 six day treatment cycles with FasciaDerm®. FasciaDerm® is compatible with over the counter arch supports and custom orthotics which are intended to provide long-term correction of foot bio-mechanical issues. FasciaDerm® provides an alternative to cortisone injections and night-splint devices.
About Applied BioKinetics LLC:
Applied BioKinetics LLC is a registered medical device manufacturer committed to developing non-invasive, cost-effective, drug-free solutions through innovation and applied science.
Plantar Fasciitis Symptoms:
In most cases, the pain associated with plantar fasciitis develops gradually and affects just one foot, although it can occur in both feet at the same time. Pain is typically in intense during the first few steps in the morning, or during the first few steps after a period of rest. The pain is best described as feeling like an ice pick in the heel of your foot.
Media Contact:
Sales(at)FasciaDerm(dot)com
(713) 474-0856; (888) 433-5339 toll free
http://www.fasciaderm.com
http://www.appliedbiokinetics.com
###