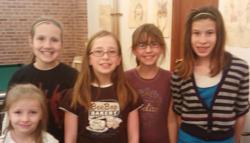 It will be a night of fun for the kids and a great night for their parents!"
Elkhorn, Nebraska (PRWEB) December 01, 2011
Youth offer free babysitting for Parents Shopping Night Out
The youth of the "iM2nd" group, that meets at Community of Grace Lutheran Church in Elkhorn, NE, will be hosting a Parents Shopping Night Out on Friday, December 9 from 6:00 pm - 9:00 pm. This event is open to the first 50 elementary age children who pre-register for this evening of games and fun! There is no charge for the event. Parents may pre-register their children by calling the church office at 402.763.9255.
Beginning at 6:00 PM, "We plan on having fun for the first hour with the bounce house, group games and activities, possibly even some crafts," said Tonia Kehr, Director of Family Life Ministries at Community of Grace. At 7:00 PM a G rated movie will begin and popcorn will be served along with a drink. The movie will be shown on the large projection movie screen with surround sound. Kids are encouraged to bring a sleeping bag to lie down on while they watch the movie.
The youth of the "iM2nd" group will be joined by adult volunteers from the congregation of Community of Grace. "All of our volunteers have passed a background check and we will have volunteers who are trained in CPR & First Aid." The adult volunteers are a group of caring parents along with their pre-teen and teen assistants, who recognize the need for parents to be able to enjoy an evening out while their children have fun in a safe environment. "A family is strongest when the parents have a strong relationship. This is a way that we can help strengthen area families," says Kehr. She asks, "What parent doesn't need some shopping time, without the children, before Christmas?"
We will accept a maximum of 50 children for the evening events. Children should be pre-registered by contacting the church office at 402.763.9255. Walk in children will be accepted on a first come basis as long as there is still room. On the evening of December 9, parents must walk in with their children and finish the registration process. Children may stay as late as 9:00 pm but may leave earlier if parents would like to pick them up.
Parents Shopping Night Out is being offered by the iM2nd group. This is a group of youth in 5th – 8th grades who have a desire to put others and Jesus first in their daily lives. They meet at Community of Grace Lutheran Church located at 3434 N 204th St in Elkhorn NE the first Thursday of every month at 4:00 pm. This group is open to all youth in 5th – 8th graders.
Community of Grace Lutheran Church is located at 3434 N. 204th Street in Elkhorn, NE 68022. "This is a great time for Moms and Dads to do their shopping and maybe even have dinner together," said Brad Hoefs, pastor of the church. "This is a real need that we are more than pleased to meet in our community," said Hoefs, "It will be a night of fun for the kids and a great night for their parents!"
###