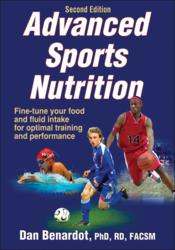 Large doses of protein do little to improve athletic performance when replacing carbohydrate.
Champaign, IL (PRWEB) December 06, 2011
Many athletes believe protein is the most critical nutrient for athletic success. But according to Dan Benardot, a renowned sport dietitian and author of the new edition of "Advanced Sports Nutrition" (Human Kinetics, 2012), carbohydrate is vital for sustaining muscular endurance and mental function. "Large doses of protein do little to improve athletic performance when replacing carbohydrate," says Benardot. "The recent popularity of higher-protein, higher-fat, and lower-carbohydrate diets has serious and potentially negative implications for athletic performance."
Delivering the right amount of carbohydrate at the right time optimizes the limited carbohydrate stores, ensures better carbohydrate delivery to the brain, reduces the possibility of depleting the limited stores, and sustains athletic performance at a high level. "Carbohydrate adequacy becomes even more critical at higher levels of exercise intensity because there is a greater reliance on carbohydrate as a source of muscular fuel," Benardot explains. "Higher-intensity training regimens, therefore, may require more frequent intake of carbohydrate to satisfy this need."
Although carbohydrate is vital for athletic success, not all types of carbohydrate are created equal. Athletes should carefully consider the best type of carbohydrate to consume before, during, and after exercise. Consumption of highly digestible, starch-based carbohydrate is best before a competition, sugar consumption is fine during a competition, and other types of carbohydrate, including whole grains and vegetables with significant sources of fiber, are good the rest of the time.
During competition Benardot stresses the importance of glucose, the main fuel for the creation of muscular energy. "Higher exercise intensities have a progressively higher reliance on glucose as a fuel," Benardot says. "Failure to sustain glucose delivery to working muscles results in a cessation of the high-intensity activity, commonly referred to as 'hitting a wall.' Therefore, understanding how to avoid glucose depletion should become a major focus of an athlete's nutrition practices."
"Advanced Sports Nutrition" offers strategies for serious athletes with the latest nutrition concepts for athletes in any sport. For more information on "Advanced Sports Nutrition, Second Edition", or other health and fitness resources, visit http://www.HumanKinetics.com or call 800-747-4457.
###