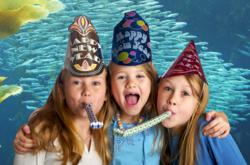 Monterey, CA (PRWEB) December 07, 2011
Start Date: Immediately
Good Through: January 1, 2012
SLEEP UNDER THE SEA ON NEW YEAR'S EVE
Join the Monterey Bay Aquarium for a special New Year's Eve Sleepover celebration for the whole family. In addition to sleeping next to world acclaimed exhibits, the event also includes a Ghirardelli ice cream sundae bar, special activities, behind-the-scenes sneak peaks, and a sparkling cider toast at 9 p.m. to celebrate when 2012 hits the East Coast, followed by a late night nature movie for night owls. New Year's Day begins with a delicious breakfast in the aquarium's cafe and wildlife spotting alongside naturalists on the Great Tide Pool deck.
The New Year's Eve Sleepover is from 7 p.m. – 8:30 a.m., beginning on Friday, December 31 at the Monterey Bay Aquarium, 886 Cannery Row, Monterey. Space is limited and pre-registration is recommended. The cost is $120 per person for aquarium members; $150 per person for the general public. For reservations call 831-647-6886. Visit the Aquarium Adventures pages on http://www.montereybayaquarium.org for more details.
###