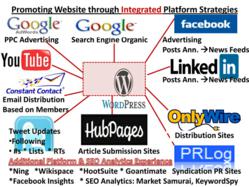 Fall, 2011 student tweeted:
@ProfHeller1 Signing up for your Social Media/SEO course has been one of the best decisions I've made. Excited about my future.
Atlanta, Georgia (PRWEB) December 09, 2011
The Social Media Institute of Atlanta is offering the second session of "Social Media and Search Engine Marketing" January 23 - April 25 on Monday and Wednesday evenings in Midtown. Classes are held at Engauge Digital - (*) located at 1230 Peachtree Street (15th and Peachtree). Cost $695, if paid by January 6th, $795 thereafter.
The course uniquely combines "hands-on platform experience" (see diagram) with academically rich content and strategy. The course is an enhanced version of the SMSEM class that Paul Heller developed and taught at both Mercer's MBA program and Oglethorpe University. See Course Summary. Real-word application results from in-class case studies and 12 weekly Mini-Case Graded Assignments that require 4-6 hours to complete in conjunction with periodic reading material. See Detailed Course Summary Link.
In addition to gaining strategic abilities to apply SMSEM to business applications, students excelling in this course could benefit from Paul's extensive network of SMSEM contacts in lining up internship and full-time job opportunities. This Email Exchange with Focus Brands/Moe's is an example where a recent student of Paul's at Oglethorpe is currently a paid intern and they intend to transition her to a permanent Social Media Manager position by the end of this year.
Textbooks used include: "Goundswell", by Li and Bernoff; and "The Facebook Era", by Clara Shih.
(*) - Engauge Digital is providing classroom space but not endorsing or sponsoring course.
###