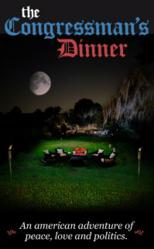 "The Congressman's Dinner was made in the hopes that the will of a greater populace might become part of the present day political discussion", says Writer/Producer Bob Di Cerbo.
Orlando, FL (PRWEB) December 05, 2011
A U.S. Congressman invites a select group of people to a dinner party for his 18 year old autistic son. With his campaign manager at his side, the plan is to use this occasion to better ascertain "the pulse of the people" in preparation for his forthcoming reelection bid.
The movie describes the twenty-first century political paradigm shift as manifest by the Arab Spring and Occupy movement, and outlines a participatory plan for America's involvement. This plan includes a proven pathway to the actualized creation of world peace.
"The Congressman's Dinner was made in the hopes that the will of a greater populace might become part of the present day political discussion," says Writer/Producer Bob Di Cerbo.
"We designed the movie as a dinner with a US congressman who is running for reelection. The thinking being that this could provide the platform to present what might be a more sensible, non-partisan and less costly present day adjustment in terms of governmental thinking and planning."
The hope is that such recognition of this "shift," including the work of the Global Peace Initiative for example, could perhaps be addressed as part of any collectively governing body's decision making and something also for each of us to individually consider.
Read the Congressman's Blog for ongoing discussion on topics related to the film!
One of the dinner guests looks to convince the Congressman that the actual physics of peace - using examples of quantum physics as seen in plant growth, water experiments and in particular what scientists refer to as the Field Effect - proves and provides for now, a definable pathway to world peace. This proven science presents an exciting understanding of how we may individually and collectively help establish an even better world.
Among the topics presented is America's spending on foreign aid, to whom it goes and with what results. This is compared to what a more strategically applied review might provide as to America being of greater service in contributing to that better world (and thereby more dynamically benefitting itself).
This strategically applied review suggests that such money is most likely better spent on trade vs. aid initiatives. Additional applications include how the US can complete a more comprehensive defense strategy and a direct pathway to how we can successfully end the war on terror.
About the Director - Omar Chraibi (http://www.imdb.com/name/nm0159599/)
Directed by Omar Chraibi, whose movies have won numerous international awards, The Congressman's Dinner marks his North American directorial debut.
Originally from Morocco and with a Master's Degree in Cinema from the Sorbonne University, Mr. Chraibi's movies have won ten awards internationally including three Best Feature Film awards. His ability to bring out the best in his actors is illustrated by the five Best Actor/Actress awards his actors have won, and his expertise in the comedy genre is seen by the two Best Comedy Program awards his has won for Moroccan Television.
Additionally he has served as a Unit Production Manager for The Bourne Ultimatum, Syriana, Body of Lies and Green Zone.
Executive Producer/Writer - Robert Di Cerbo
Robert Di Cerbo has been working professionally for thirty years in the entertainment industry, as an actor, director, writer, and producer. He has worked with directors Woody Allen, Peter Weir, Ivan Reitman and Martin Scorsese. He was an Associate Producer of The Karaoke King feature film, which has been an official selection at various film festivals and has secured a distribution offer, an Executive Producer for the horror film feature The Tenant, which has also secured distribution and Writer/Executive Producer and Producer for the feature film The Congressman's Dinner now completed as of October, 2011. Robert has served locally on the Central Florida Performing Arts Board of Directors and the (Orlando) Downtown Arts District commission, is a founding member of the Orlando Professional Filmmakers Group, worked for the World Marketing Alliance where he held a NASD series 7 license and for sixteen years owned and operated a highly successful promotional travel business.
Filmed in Florida using Florida's Entertainment Industry Financial Incentive
###