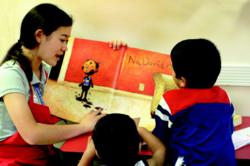 CivicWeek opened my eyes and mind and changed my life. I would recommend it in a heartbeat.
Evanston, Illinois (PRWEB) December 16, 2011
This spring, teams of outstanding high school students from across the country will give up lazing on the beach or playing video games for the opportunity to serve communities, explore a career, and learn how to make a difference.
An offering of the Civic Education Project (CEP), housed at Northwestern University's Center for Talent Development, CivicWeek programs engage diverse groups of high school students in weeklong, career-focused service-learning immersion experiences in communities around the country. Each program provides a unique opportunity for bright, motivated students to gain hands-on experience with important social issues while exploring careers that serve the public interest in fields like criminal justice, education reform, public health and urban development.
Under the supervision of trained CEP staff, groups of 14 to 18 students spend their days engaged in meaningful community service and meetings with prominent professionals and community leaders. Evenings are filled with team building activities, thoughtful reflection on the issues the group is exploring, and of course, relaxation and fun. CivicWeek challenges students not only to develop their individual talents, but to apply their skills and passions to make a difference in the world.
The Civic Education Project is running five CivicWeek programs in spring 2012, including Politics & Urban Development in Washington DC (March 25-31); Public Health in Chicago (March 25-31); Education Policy & School Reform in New York (April 1-7); Law & Criminal Justice in Chicago (April 1-7); and Law & Criminal Justice in New York (April 9-15). For more information or to apply, visit civiceducationproject.com.
###