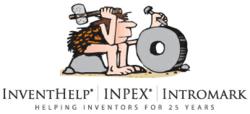 Pittsburgh, PA (PRWEB) December 02, 2011
InventHelp®, America's largest invention submission company, announces that one of its clients, an inventor from Georgia, has designed an enhanced vacuum cleaner. This invention is patented.
The "MVP" vacuum would include two shoulder straps, which would allow it to be worn like a backpack. The unit would be powered by a battery instead of electricity, thereby eliminating the need for a power cord. The lightweight, easily portable design would make it easier to clean spider webs off ceilings and dust off doors, windows, blinds and walls.
The MVP would consist of a portable vacuum that would feature an oblong design and 1-1/2-inch shoulder straps that would be attached to the sides. The shoulder straps would be adjustable via hook-and-loop fasteners. Additional support straps would run from the front of the vacuum to the middle of the shoulder straps to hold them in place. The vacuum hose, which would extend from the top, would be mounted to a swivel neck that allows it to rotate from side to side to accommodate left- and right-hand users. The filter would be located inside the unit toward the top, below the hose connection. The portion of the vacuum that rests against the user's back includes six ¾-inch squares made from spongy material so that the unit is not in direct contact with the back. The battery would be located on the bottom of the portion of the unit that rests against the user's back. The MVP could be producible in different sizes and colors, as well as a wet/dry vacuum and in a commercial version.
InventHelp® is attempting to submit the invention to companies for review. If substantial interest is expressed, the company will attempt to negotiate for a sale or royalties for the inventor. For more information, telephone Dept. 09-AAT-1137 at (800) 851-6030.
Manufacturers interested in reviewing additional inventions and new product ideas can contact InventHelp's marketing partner Intromark by filling out an online request to review new product ideas here.
# # #