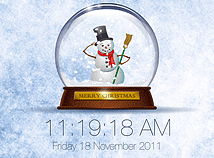 Christmas screensaver is a nice method to create a holiday and festive atmosphere easily and very quickly
London, UK (PRWEB) December 14, 2011
Christmas time is a good time for crafts. Newfreescreensavers.com, a website of free screensavers and wallpapers, shares its idea on Christmas decorations and gives a step-by-step instruction on how to create an individual Christmas and New Year free screensaver from Christmas pictures and photos.
Christmas screensaver is a nice method to create a holiday and festive atmosphere easily and very quickly. All computer and internet users keep lots of nice pictures and photos made within the winter holidays of previous years. Now it is high time to get them out the computer folders and make the most of them, a free Christmas screensaver.
So let's begin. First of all, it is necessary to create a special folder with the pictures/photos which will be seen in a future screensaver. After that it is essential go to Control Panel and open Display or Personalization Properties windows in accordance with the Operation System. Then it is necessary to Select the Screensaver tab, and select the desired screensaver from the drop-down menu. It is called My Picture Slideshow or Photos, depending on the OS. Once all the settings are adjusted, OK button must be clicked on. The home-made free screensaver is ready! It is definitely free and safe!
Also NewFreeScreensavers.com offers its collection of Christmas and New Year screensavers, which are free and safe to install and run and will work on any version of Windows and Mac.
COMPANY:
NewFreeScreensavers.com offers a collection of completely free screensavers and wallpapers. It features a tips and tricks section about screensavers and a blog about everything related screensavers. To download a safe free screensaver, and to learn about the best screensaver available, visit Best free screensaver page.
Contact:
Claire Webb
is(at)newfreescreensavers(dot)com
phone +1 347 767 42 57
NewFreeScreensavers.com project
###