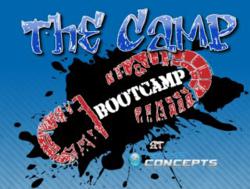 Chino Hills, CA (PRWEB) December 01, 2011
December is a month of reflection for many Californians as they consider their New Year's resolutions. Given the high stress of Christmas shopping, party planning and holiday travel, it's also the perfect time to drive cortisol levels back down and boost feel-good chemicals in the brain with regular exercise. This month, The Camp Boot Camp is pleased to offer a free health consultation and a week of group boot camp sessions with a Chino Hills personal trainer.
At the one-on-one health consultation, a certified Chino Hills Weight Loss Expert will meet with newcomers to create a customized fitness plan that includes goal setting, monthly meal plan creation and an exercise regimen. Starting measurements will be taken so exercisers can chart their progress over the coming months. In essence, individuals will be given all the tools they need to succeed at improving weight, body fat percentage, dress size, flexibility and endurance.
Often starting and sticking with it is the hardest part of adopting a healthier lifestyle and regular fitness routine. That's where a Chino Hills personal trainer can be invaluable. "The Chino Hills Personal Trainers has taught me how to mold my body and mind into any shape or state that I wish it to be," says Scott, one of the Chino Hills boot camp participants. In just three months, he was able to lose 12 pounds and drop down to just 15 percent body fat.
Lillian, another boot camp participant, admits there is just something magical about working with a Chino Hills personal trainer who is actively invested in their clients' success. "Everything about my transformation felt right with the guided help of the entire team of trainers," she says. "The knowledge they provide to help you achieve your goals is worth gold and it's information that continues to help me stay in shape."
The end goal of a Chino Hills Boot Camp at The Camp Boot Camp is to provide clients with a lasting lifestyle change – one that is fun, and even a little bit addictive. The group classes quickly become a place for social interaction, where all awkwardness quickly fades away when participants begin to run through the indoor obstacle course. Fitness trainers walk around during the session, giving pointers and offering modifications to make all the exercises either easier or more challenging, depending on one's fitness level.
Boot camp participant Marty, who lost 9 percent of her body fat and over 16 inches from her waistline, explains, "The personal trainers look deeper than just the physical aspect of your needs and really draw the goals in you that you didn't even realize you had."
December is a fantastic time to try out a Chino Hills personal trainer with this special offer.
About The Company: Fitness Concepts was founded in 1999 as a personal training company consisting of many talented and caring individual trainers dedicated to get their prospective clients the maximum results through proper training, nutrition and supplementation. We at Fitness Concepts believe in client education and long term client health and success, not unhealthy quick fix fad diets and programs that could be hazardous to our clients. For more information, please visit http://www.thecampbootcamp.com.
Contact Information:
Fit Concepts Inc.
14682 Central Avenue
Chino, CA 91710
(909) 962-7745.
http://www.thecampbootcamp.com
###