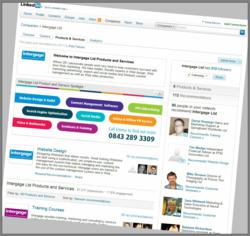 Our 100+ testimonials have shown up in LinkedIn more than 60,000 times in just 11 months.
(PRWEB) December 06, 2011
Digital marketing agency Intergage is celebrating after gaining more than 100 recommendations on its LinkedIn company page in less than a year.
Delighted Intergage clients have been swift to use LinkedIn to recommend the rapidly expanding agency's wide range of website design, development and Web marketing solutions.
Their recommendations have been viewed and shared across the powerful B2B social media network which now has more than 130 million members in 200 countries.
And those are just the recommendations published on Intergage's LinkedIn company page – that does not include all the recommendations and testimonials gained by the Intergage team on their personal LinkedIn profiles.
At time of going to press, Intergage had received:

47 recommendations for its training courses which include website usability and conversion, Search Engine Optimisation (SEO), Google tools, Facebook, LinkedIn, Twitter (plus its apps), mobile access, email marketing
22 recommendations for Intergage Web Marketing Services which include Search Engine Optimisation (SEO management), linkbuilding, Google AdWords, Facebook and LinkedIn pay per click management(PPC), social media marketing, digital PR, article marketing, social bookmarking, blogging and Web copywriting
18 recommendations for the powerful but easy to use Intergage Web Site Content Management System that powers hundreds of Intergage websites
16 recommendations for Intergage's highly creative Website Design team
five recommendations for Intergage's new series of quarterly seminars that bring customers up to speed on the very latest developments in Web marketing
two recommendations for Intergage's brand new Interaise charity donations software that enables charities to cut out the middleman and keep more of the cash donated to them online.
Jet Connections Director of Operations Tariq Deir said: "Intergage have provided Jet Connections with a first class service from the word 'go' and continue to do so to this day – completely capturing the scope and feel of the company.
"Intergage provided innovative ideas in website design as well as business sense when looking at ROI and Digital PR – they really are a complete web marketing partner. The synergy between the team is fantastic and they are always available to discuss your project. Highly recommended!"
SIS Workplace, Marketing and Business Development, Graham Scott said: "Our website required a complete revamp. We decided to take the advice from Intergage and use the training to help us work with the Content Management System ourselves. This ensured that we learnt more about our own website and how to attract traffic to the site.
"This in turn has taught us more about our business and we have already seen an increase in traffic, more enquiries and orders resulting from the revamp. Intergage are a partner we would strongly recommend."
Intergage Managing Director Paul Tansey has been the driving force in encouraging clients to use LinkedIn to help drive traffic to their websites.
He spoke recently at a conference in Barcelona on the power of LinkedIn to transform the way that companies and other organisations gain new business and interact with their target market audiences.
His message has been taken up by the whole team at the digital marketing agency – they have used LinkedIn to:

promote clients' websites and businesses
share advice and best practice
engage in thought leadership by launching LinkedIn groups and through online discussions.
Paul Tansey – one of two dedicated LinkedIn specialists at Intergage – said: "Customer testimonials are hugely valuable in the social media age and are a much under-utilised tool.
"Our 100+ testimonials have shown up in LinkedIn more than 60,000 times in just 11 months," added Paul, who has more than 50 individual recommendations on his 500+connection LinkedIn profile.
Discover how intelligent web design, ROI-focused web marketing services and innovative social media marketing can help your organisation connect with its online target audiences – please contact Intergage Marketing Manager Emma Barrow on 0845 456 1022.
About Intergage
Intergage Ltd is the complete Web marketing partner, a leading UK digital marketing agency that continues to expand and recruit the brightest staff. It currently has two offices in Poole, Dorset and Chandler's Ford, Hampshire.
All Intergage services have a clear focus on providing their customers with a return on investment from their Web marketing.
Intergage Web marketing services include:

designing and building websites that enable clients to manage their own content using the unique Intergage Content Management System (CMS)
planning and managing all your Search Engine Optimisation (SEO), Pay-Per-Click (PPC) advertising, Digital PR and Social Media Marketing needs to ensure your site receives and successfully converts a steady stream of customer enquiries
comprehensive Web marketing training to empower you and enable you to manage SEO, PPC, Social Media and the Intergage Content Management System.
Intergage is committed to a long-term relationship with each and every client and is constantly seeking ways to improve your website results.
Intergage boasts more than 350 clients. Having started the business 11 years ago, Directors Paul and Gareth Tansey are proud to have retained at least 95 per cent of clients year on year.
For more information about Intergage, any of the services it provides or just to have a friendly chat with a team member, please contact Marketing Manager Emma Barrow on 0845 456 1022.
###