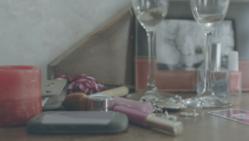 This is a quote.
Miami, FL (PRWEB) December 01, 2011
Post-production facility Upstairs worked on various spots for the Miami Short Film Festival to advertise the event. The spots humorously outline the differences between feature films and short films, while showcasing the advantages to short films in that they require many fewer details to effectively tell a compelling story. Upstairs color corrected the spots and was also in charge of concealing all intimate areas so that the ads could be aired on television.
Pablo Buffagni of Conill Advertising was in charge of the creative for the advertisements, which were produced by D'Avant-Garde Media.
The music tracks were motivated to underscore the very jocular nature of the spots. Uptempo's own Aaron Fishbein performed with singer Gil Bitton on the track for one spot "Beside Table," which was inspired by 1980s music. Also, Uptempo was in charge of the sound design for the series of ads that commemorated the10th anniversary of the MSFF. This blend of talent accentuated the comedic timing of both ads.
About Upstairs
Upstairs is an award winning full-service post-production company located in Miami, Florida specializing in art direction, editing, color correction, visual effects, animation and motion graphics, sound design, audio post and original music for motion pictures, TV commercials, broadcast networks and corporations.
About Uptempo
Uptempo is an original music and audio post-production facility based in Miami, FL with services that include voice over talent, selection and booking support, pre-production, scheduling, ISDN, and dubbing services. Uptempo has a pool of musicians with backgrounds in motion picture, album recording, broadcast, and advertising.
Credits:
Client: Miami Short Film Festival
Title: Beside Table
Advertising Agency: Conill
Chief Creative Officer: Pablo Buffagni
Director: Pablo Buffagni & Francisco Pugliese
Post-Production Company: Upstairs
Online: Upstairs
Color Correction – Rudel Reyes - Upstairs
Animation: Upstairs
Music Design & Audio Post: Uptempo
# # #