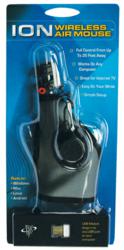 One Must Relax to Enjoy!
Orlando,Fl (PRWEB) December 01, 2011
After the successful new product launch last month of the Ion wireless air mouse glove, Bellco Ventures with the help of the Ergoguys LLC and Ingram Micro has placed this new Ion wireless ergonomic air mouse glove online. What began as a garage startup, the new air mouse glove is now available at over 40 online stores. Being the only one available in the world, Bellco believes it is a great, innovative gift for the holiday season.
With this new air mouse glove, the user is free to move all around the room. It has a mobile range of more than 35 feet and works on any computer system. With everything moving to the big screen and Internet TV, this new Ion air mouse glove allows one to sit back on the sofa or big chair while controlling the cursor. With this new Ion air mouse glove and a wireless keyboard, the relaxation sets in. At last, there is no more stressing over the table mouse.
This Ion mouse controller is fit for all different computer users out there. It is great for playing online games, such as online golf, shopping online, or presentations. Great for work or play, this wireless air mouse allows users to sit back and relax while controlling their computers or Internet TV's.
Pete Bell, founder of Bellco Ventures, is looking at different design options to place logos and color concepts on the new Ion air mouse glove. He says the company is also looking into licensing sports logos.
For more information on the wireless air mouse and Bellco Ventures, visit http://www.ionwirelessairmouse.com.
###