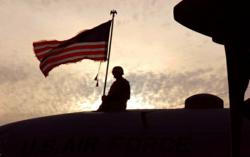 Fairfax, VA (PRWEB) December 15, 2011
Residential mortgage lender Patrick Cunningham, Senior Vice President at Home Savings & Trust Mortgage, is responsible for lending millions of dollars each year to eligible Veterans in Virginia and Maryland. The Patrick Cunningham Team is proud to announce the launch of a new website specifically for Veteran's Affairs borrowers. This new site has information on how to apply for a Veterans Affairs home loan, how to connect with a reputable company to help improve credit, frequently asked questions about VA loans, and how to apply online.
The Patrick Cunningham Team is also offering a complimentary report for all Veterans and active duty military. The report is titled "Seven deadliest mistakes when getting a VA home loan." This report was developed by Veterans Affairs financing experts and underwriters that have worked with the VA loan program for over 30 years. It will save Veterans money, time, and headaches when buying a new home or refinancing their current VA loan.
In addition to being a local market leader with the Veterans Affairs Home Loan product, the Patrick Cunningham Team is also dedicated to honoring servicemen and women by making a donation to the Wounded Warrior Project for every VA loan transaction completed. The mission of the Wounded Warrior Project (WWP) is to honor and empower wounded warriors. Its purpose is to raise awareness and enlist the public's aid for the needs of severely injured service men and women, to help severely injured service members aid and assist each other, and to provide unique, direct programs and services to meet the needs of severely injured service members.
Visit http://www.novavetloans.com/ for more information.
###