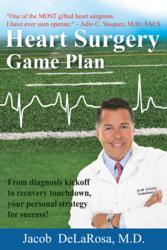 This is the one book you'll read this year that might just save your life!

Los Angeles, CA (PRWEB) December 01, 2011
Heart Surgery Game Plan is written by Jacob DeLaRosa, MD, a renowned heart surgeon and considered a "coach" in heart disease. This book is written to the heart patient and to the brother, sister, child, parent, neighbor, or close friend of the patient, to the entire circle of care-giving. There is a human, narrative thread woven throughout this book, as Dr. DeLaRosa draws from his own tragedy he suffered in his second year of surgical training. While jogging he was hit by a truck going 60 mph, and suffered a collapsed lung, broken ribs, brain bleed, a shattered pelvis, and a broken shoulder. Dr. DeLaRosa has dealt first-hand with the pain, fear, depression, and bedside-manner-from-hell that can assail a hospital patient in an emergency situation. The Heart Surgery Game Plan prepares the reader using a fun football metaphor for what to expect when the diagnosis of heart disease is made and what they will need to do to win the fight of heart disease. Heart patients and families have many questions. Should they get a PCI or a bypass? How do they choose a surgeon? Will this procedure hurt? How long until they get back to normal? This book has answers that are honest, practical, and compassionate. And for case-specific questions, Dr. DeLaRosa tells them how to talk to their cardiologist, their surgeon, and their insurance company to get the answers they need. Can't talk to the doctor? Dr. DeLaRosa's advice cuts to the chase: get another doctor!
Winning a football game takes a team, not just one hot-shot quarterback. Likewise, "Beating heart disease requires a team effort," says DeLaRosa. To play this all-important game, a coach is needed (the doctor), a good support staff (other medical professionals and the home care team), and cheerleaders and fans to help keep up morale. Heart Surgery Game Plan is about building the dream team that will give a win. This is the one book this year that might just save a life!
Heart Surgery Game plan can be found at:

Book Information:
Heart Surgery Game Plan
Author: Jacob DeLaRosa, MD
Publisher: Live Right Publishing
Pages: 144
ISBN-10: 1880759764
ISBN-13: 978-1880759769
Published: December 1, 2011
About the Author
Jacob DeLaRosa, M.D. was raised in Los Angeles, California. The son of a physician, he aspired to be a doctor from an early age. He is a good listener who is fast with a joke and a hug. His patients have embraced his charming and encouraging coaching style. Dr. DeLaRosa is double boarded in cardiac surgery and general surgery, and specializes in open-heart and endovascular surgery. He is the Chief of Cardiothoracic and Endovascular Surgery at Portneuf Medical Center. He has received hundreds of awards and honors, and is a professional member of multiple national and international medical societies. Dr. DeLaRosa trained in cardiac surgery at Emory University in Atlanta, Georgia. He has been recently featured on the syndicated television show The Wendy Williams Show and People magazine. Dr. DeLaRosa is a celebrated speaker in his field, with hundreds of presentations that engage audiences on the topics of cardiac surgery, endovascular surgery, thoracic surgery, self-motivation, and overall heart health throughout the United States and internationally. He has authored many peer-reviewed articles in respected medical journals and contributed various chapters for several published medical books.
###