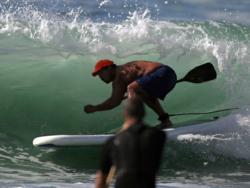 It's important to us that we offer our customers the best possible boards in every category.
Bend, Oregon (PRWEB) December 06, 2011
To meet the demands of stand up paddlers with limited storage space and/or the desire to travel with their boards, Stand Up Paddle Flatwater, an online retailer of top quality stand up paddle equipment, now offers the complete line of ULI Inflatable Stand Up Paddle Boards.
"It's important to us that we offer our customers the best possible boards in every category," says Stand Up Paddle Flatwater owner Lainey Booth. "And when it comes to inflatables, you can't beat ULI."
Due to their size and weight, traveling long distances with most stand up paddle boards can be both frustrating and cost prohibitive. Similarly, lack of space to store a traditional stand up paddle board prevents many potential paddlers from investing in their own gear. The hassle of loading and unloading big and heavy boards from car roofs is yet another deterrent for some.
ULI Boards solve all of these problems. Each one can be easily packed into a standard duffel bag. Yet, once inflated, they're rigid enough to handle some of the most challenging waves. In fact, when fully inflated, ULI Boards are hard to distinguish from regular boards.
Invented by a longtime surfer and refined by years of research and testing, ULI Boards inflate easily within minutes. They can be deflated after each use for easy storage, or kept inflated and rigid for months and then deflated before travel.
"We're thrilled to have such an awesome solution for our many customers who want to travel with their boards or have storage issues," says Booth. "With inflatable boards, many people have concerns that performance will be up to par," she adds. "With ULI Boards it definitely is."
A bonus benefit of ULI Boards is that their buoyancy makes them very easy to both paddle and surf. In fact, they can be used to ride even very shallow waves.
ULI Boards are handmade with the highest quality materials to ensure extreme durability.
Stand Up Paddle Flatwater is a full-service, family-owned online SUP shop dedicated to providing you with everything you need to have as much fun as possible with SUP. Whether you want to surf big waves, win races, get in shape, shoot rapids, just cruise, or do a little of everything, you can trust Stand Up Paddle Flatwater to help you pick equipment you'll be stoked on. A flagship store, Stand Up Paddle Bend, is located in Bend, Oregon.
###