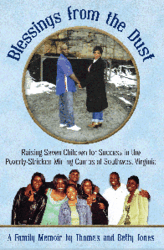 This memoir paints a moving portrait of one family's ambitious plan to succeed.
BIG STONE GAP, Va. (PRWEB) December 06, 2011
It's not easy raising a family of any size, much less one with seven children, but Thomas and Betty Jones succeeded. This new family memoir tells the story of these two determined parents and their struggles to raise their children in the barren and desolate coal mining camps of southwest Virginia. Their remarkable achievement – sending all seven children to college and preparing them to find success outside of Wise County – is a testament to their resolve, faith and dedication to a strong family unit.
Blessings from the Dust follows the Jones' story from the time their ancestors – along with many other African-Americans – came to Virginia to work in the coal mines in the 1920s, to Thomas and Betty's difficult decision to return to the Big Stone Gap/Appalachia area after being away for five years, and then remaining there to raise their growing family. They began seeing the fruits of their labors as, in addition to all seven children going off to college, each excelled in his and her own way and the two boys, Thomas and Julius, became collegiate football stars and ultimately outstanding running backs in the NFL.
The authors speak honestly and candidly about the difficulties encountered on their journey, as well as sharing their opinions about the problems facing many African-American children and the absolute importance of the two-parent family in today's society. Told with additional input from the Jones children, this memoir paints a moving portrait of one family's ambitious plan to succeed.
Thomas and Betty Jones grew up in the segregated coal mining camps of southwest Virginia, children of coal-mining fathers. They married and moved away, but fate drew them back to the area. Betty toiled underground in the mines for nearly 20 years, while Thomas gave up a promising broadcasting career to work closer to home and to help raise the children: Gwen, Beatrice, Thomas, Knetris, Julius, Knetta and Katrice.
Blessings from the Dust: Raising Seven Children for Success in the Poverty-Stricken Mining Camps of Southwest Virginia
Thomas and Betty Jones
Dog Ear Publishing
Paperback ISBN: 978-1-4575-0826-4 336 pages $17.95 US
Hardcover ISBN: 978-1-4575-0682-6 336 pages $34.95 US
Available at Ingram, Amazon.com, Barnes & Noble and fine bookstores everywhere.
About Dog Ear Publishing, LLC
Dog Ear Publishing offers completely customized self-publishing services for independent authors. We provide cost-effective, fast, and highly profitable services to publish and distribute independently published books. Our book publishing and distribution services reach worldwide. Dog Ear authors retain all rights and complete creative control throughout the entire self-publishing process. Self-publishing services are available globally at http://www.dogearpublishing.net
and from our offices in Indianapolis.
Dog Ear Publishing – self-publishing that actually makes sense.
###