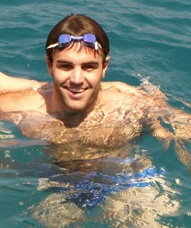 The number of athletes using our freestyle technique program has tripled in the last three months.
Melbourne, Australia (PRWEB) December 04, 2011
Early 2011 was marked by significant speculation that two of the world's greatest swimmers would be making their return to the sport. In February of 2011, both Ian Thorpe and Michael Klim announced they would indeed be returning to the pool and would be targetting the 2012 London Olympic Games.
Both men have done amazing things for the sport of swimming, with American swimming coach Bob Bowman in particular giving Thorpe credit for boosting the popularity and image of swimming – so much so that Michael Phelp's public image was actually modelled on Thorpe.
The immediate upshot of Klim and Thorpe returning to competitive swimming, other than an increase in interest for the 2012 Olympic Games, has been a tremendous surge in people returning to swimming. Increasing numbers of amateur triathletes and swimmers are hitting the pool in order to improve their technique and fitness.
This trend has certainly not been lost on Brenton Ford, head coach at Effortless Swimming. Ford notes, "The number of athletes using our freestyle technique program has tripled in the last three months. The return of Thorpe has lifted the popularity of swimming once again and swimmers know the fastest way to improving in the pool is by getting their technique right. We've made sure to make this as easy as possible for athletes who are looking for ways swim faster."
The problem that most swimmers find is that standard swim training is incapable of providing substantial improvements in either time or technique. This is because swimmers have to consciously think about dozens of different components within each stroke. Brenton Ford's innovative Mastering Freestyle training programme does away with that complexity, offering simple swimming drills that allow swimmers to feel changes in their stroke without having to consciously think about dozens of different components.
According to Brenton Ford, "Swimmers and triathletes normally hit a plateau after six months of training where they stop improving their speed and endurance. This where many swimmers either accept defeat or get advice from a qualified coach. Swimming can be difficult without the right knowledge, that's why I put together the Mastering Freestyle program which makes swimmers technique longer and smoother. It reduces the effort and energy required to swim fast."
In short, Mastering Freestyle gives any swimmer, regardless of experience or skill level, the means to develop the right skills to reduce swim times and improve freestyle technique.
Find out more about the Mastering Freestyle program and how this swimming programme can improve swimming technique.
About Effortless Swimming: Effortless Swimming was founded by Australian national coach Brenton Ford to share the techniques of top swimmers with athletes from around the world. Brenton has helped 1,000's of swimmers and triathletes from over 20 countries to improve their technique.
# # #