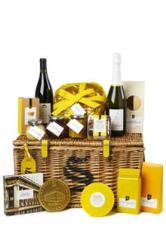 From gift boxes that simply add a touch of gourmet quality to your menu to full food hampers capable of transforming your dining table
London, England (PRWEB UK) 2 December 2011
Christmas is a time for sharing. Presents, memories, food and drink are all shared as the festive season is celebrated in style and the launch of Selfridges' new hampers website can help. From gift boxes that simply add a touch of gourmet quality to a menu or a full food hamper capable of transforming a dinner table with festive treats.
Food, Glorious Food Hampers
Packed full of delicious treats such as Christmas pudding, preserves, biscuits, condiments and drinks, Selfridges Christmas hampers are the perfect centre piece to a wonderfully luxurious Christmas menu.
The Festive Comfort hamper includes a range of deliciously English treats and winter favourites including handmade fudge, rich Cafetiere coffee and shortbread biscuits, while the Christmas Sparkle hamper features these favourites, plus a bottle of Selfridges Prosecco and fine English chocolate.
Want to mix sweet and savoury? Selfridges White Magic hamper could indulge every taste bud with Selfridges biscuits alongside handmade hot English mustard, while a range of rich and tasty treats such as Medimo mixed olives, raisin-studded Panettone and Selfridges chocolate selection are included in the Indulgent Luxury hamper.
At the top of the tree this Christmas is the Selfridges Celebration Hamper. A hamper full of everything needed to make a Christmas banquet truly memorable, including Selfridges smoked salmon, potted stilton cheese, black Rustica olives, a range of condiments. The condiments include Selfridges cranberry sauce, onion marmalade and horseradish sauce. A festive drinker can whet their appetite with a generous selection of drinks, including Brut champagne, Selfridges Prosecco, wine and port. The Celebration Christmas Hamper also includes biscuits and six jars of traditional sweets to indulge a sweet tooth.
Alternatively, budding sommeliers can concentrate on the drinks cabinet with the Wine Makers Selection or the Celebratory Six Hamper which features multiple bottles of wine including the spicy red Selfridges Cotes du Rhone and the crisp white Selfridges Touraine Sauvignon.
Treating Friends and Family with a Gift Box Hamper
Presented in a stylish presentation box, Selfridges gift box hampers are packed full of delicious gourmet treats capable of keeping everyone full until Boxing Day. Add a champagne Christmas pudding and brandy butter to a dinner table with the Selfridges Christmas Gift Box or indulge in an after-dinner treat of port and cheese with their Port & Cheese Gift Box. Also add some fizz to the dinner table and celebrate the Christmas season in style with a champagne gift hamper. The Champagne & Chocolate Gift Box includes Selfridges champagne which was recommended in Oz Clarke's 250 Best Wines 2011 list. Alternatively, start Christmas day with a treat and choose a Breakfast & Beyond Gift Box which includes a mug of rich Selfridges Breakfast Tea and Cafetiere Coffee as well as preserves and the all-important Christmas pudding.
View the full range and order Selfridges Christmas Hampers online from http://www.selfridges.co.uk.
###