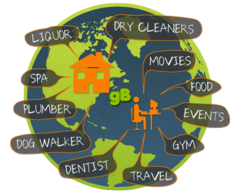 Save money on the things you do every day
Baltimore, Maryland (PRWEB) December 01, 2011
Businesses owners, before you jump on the latest band wagon of being featured on one of the popular daily deal sites like "Groupon" or "Living Social", consider a new business model, GangBucks.com, that just launched in the Baltimore area. It is a cross between Angie's List, Sam's Club, yelp, and Groupon, where businesses get to become part of an elite network made up of the best businesses in an area to be showcased to paying members. Members get an ongoing discount to all of the businesses on GangBucks making it more like a club than a discount site. Unlike the typical daily deal site, on GangBucks, businesses get exclusivity, meaning they are the only business of their type in designated demographics, represented to members. This helps drive in new guests and to eliminate competition. Merchants can utilize several easy to use templates to communicate promotions and discounts to the membership base. Because members pay a monthly fee, it helps to eliminate the "coupon clippers" that often times turn out to be temporary customers.
GangBucks members join for $10 per month (there is a limited time offer for $5 half price memberships at the time of writing) and typically save between $50 and $100 a month for doing next to nothing. There are no coupons required to get discounts and they get the discounts every time they visit a business on the network. They simply show up, and at the point of purchase, show their driver's license (or phone app ID) and tell the merchant that they are a member. Members also get to voice their opinion by rating and writing reviews on their experiences at each of the businesses, and receive a $10 referral fee each time they sign up one of their friends. Each week the network grows by 5 to 10 new businesses. "It is simple, sustainable, and effortless! I designed it after my own habits; I never use coupons, but like to save money" said Neil Westford, co-creator of GangBucks. "Members like the feeling of being part of an elite club."
According to the latest research, 5o to 60 percent of businesses are so frustrated with the typical daily deal sites model and would not repeat this type of promotion. But you can't deny that consumers like and really need to be able to cut corners and save money where necessary. Times are tough and the economy doesn't appear to be recovering any time soon.
GangBucks certainly does appear to have figured out a way to save consumers money while building loyalty and repeat business for the merchants. It is a diverse marketing tool that appears to be a win/win for everyone! Watch out Groupon, better make room for GangBucks!
For more information visit http://gangbucks.com
###