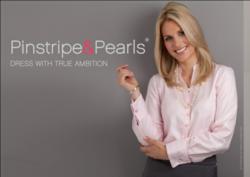 We understand that your weekend is simply too precious to spend it rushing up and down the high street, only to find the one business suit you actually like, doesn't fit"
(PRWEB UK) 1 December 2011
Pinstripe&Pearls.com have put together a gorgeous collection of ladies office wear, with a special emphasis on corporate styled shoes, business handbags, women's business suits and accessories. Featuring a range of uniquely designed ladies suit jackets and perfect work trousers for women in long wearing fabrics. Customers can shop the whole look, or they can simply select a great item which fits in well with their existing work wear.
Our Founder and CEO worked for over 10 years in FTSE100 companies and as a Director in one of the City's Big 4 firms. She noticed how equally frustrated women in her team and her clients where on this subject... and so decided to do something about it!
"The way we look at it is simple - if you look great, you feel great, and that's got to lead to a better, more confident performance in the workplace. When you are busy delivering in a senior role often the last thing you have time for is yourself – many women in business end up putting together a corporate look from a mismatch of high street stores, never quite knowing if they have got it right.
"Many women we spoke to also felt it was a lot easier for men to dress appropriately for the workplace – put on a suit and tie and they can't go wrong. With women, dressing for work raises lots of unique questions, for many different reasons. We wanted to make life just that little bit easier for business women through careful product choice, design and considering the whole corporate look. So when you feel under pressure on the inside, at least you can have confidence that you still look the part on the outside!"
UK Returns are free and delivery options are flexible - you can have your order delivered on a Saturday or straight to your office – finally someone who understands that those with demanding careers just can't wait in all day!
# # #