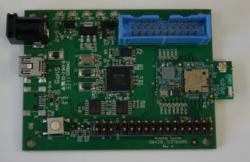 Billerica, MA (PRWEB) December 01, 2011
Inventek's eS-WiFi modules will provide manufacturers the ability to easily integrate wireless connectivity into MCU based designs in the consumer, industrial and medical product markets. Examples of the rapidly expanding embedded WiFi space include smart appliances, building automation, smart energy control, and cloud-based interconnectivity for healthcare and medical monitoring applications.
The eS-WiFi module hardware system consists of a host processor, integrated antenna and Broadcom WiFi device. The module provides SPI and UART interfaces enabling easy connection to an embedded design. The module requires no operating system and has a completely integrated TCP/IP stack that only requires a simple AT command set to establish connectivity.
Inventek's modules utilize the recently released Broadcom modular WiFi WICED platform (http://www.broadcom.com/press/release.php?id=s622654) and add several key features such as configuration using standard AT commands, FCC certification, and a small 15mmx28mm or 15mmx30mm form factor. These features minimize or eliminate the development time, testing routines and certification requirements and make them ideal for a wide range of embedded wireless applications.
eS-WiFi modules are offered in three configurations: 15mmx30mm module with integrated trace antenna (ISM4319-M3-L44-E), 15mmx28mm module with ceramic antenna (ISM4319-M3-L44-C) and 15mmx28mm module with U.Fl connector for external antenna connection (ISM4319-M3-L44-U). In addition, Inventek offers two development boards (ISM4319-M3-E-EVB and ISM4319-M3-UC-EVB) for customer evaluation and integration of the eS-WiFi module into their system.
For applications that require customized design, Inventek also provides customer specific hardware and software design services.
Availability:
Ordering Number, Description, Availability
ISM4319-M3-L44-E, 802.11 Module with Microstrip Antenna, December 2011
ISM4319-M3-L44-C, 802.11 Module with Ceramic Antenna, December 2011
ISM4319-M3-L44-U, 802.11 Module with External Antenna, December 2011
ISM4319-M3-E-EVB, Evaluation Board for ISM4319-M3-L44-E, NOW
ISM4319-M3-UC-EVB, Evaluation Board for ISM4319-M3-L44-UC, NOW
Main Features:

802.11 b, g and n compliant based on Broadcom MAC/Baseband/Radio device.
Fully contained TCP/IP stack minimizing host CPU requirements
Configurable though AT commands.
Host interfaces: UART, SPI up to 25MHz.
Network features - ICMP ( Ping), ARP, DHCP,TCP, UDP
Low power operation (3.3V supply) with built-in low power modes.
Secure Wi-Fi authentication WEP-128, WPA-PSK (TKIP), WPA2-PSK
Design Examples:

PDA, Pocket PC, computing devices
Building automation and smart energy control.
Industrial sensing and remote equipment monitoring.
Warehousing, logistics and freight management
PC and gaming peripherals
Printers, scanners, alarm and video systems
Medical applications including patient monitoring and remote diagnostics
About Inventek:
Inventek Systems is a privately held, USA-based, full-service wireless solutions provider focused on 802.11 WiFi embedded solutions, GPS embedded modules and antennas. A wide spectrum of standard and custom embedded products are offered ranging from low cost system-in-a-package (SIP) products to modular based custom solutions. Inventek provides a unique set of services from consulting to custom design to cost effective high volume manufacturing.
Inventek Systems products are used in a wide range of consumer, industrial, and defense based applications. Inventek's eS-WiFi and Ez-GPS products are enabling customers around the world to add WiFi connectivity and GPS features at a quickening pace with minimal design effort.
###