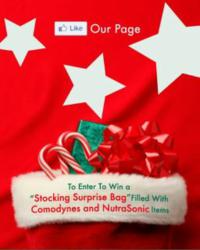 Seattle, WA (PRWEB) December 01, 2011
DNA Response, Inc. (DNA), provider of interactive marketing and order management, has launched a special holiday Facebook Sweepstakes Giveaway for BuyComodynes, its self-tanning and skincare online store, and for BuyNutraSonic, its online store specializing in beauty products.
Five users will win a stocking surprise bag, each filled with BuyComodynes and BuyNutraSonic products and each one valued at $50. To enter, users must "Like" either the Comodynes or NutraSonic Facebook page and enter their name and email address into the sweepstakes form. The winners will be announced on Tuesday, December 6, 2011.
BuyComodynes products are known for their convenience: they are individually packaged, easy to use and offer superior results. The Self-Tanning Towelettes provide a beautiful uniform tan within three hours after application. Other popular BuyComodynes products include an oat based make-up remover towelettes for different skin types, a facial peel towelette, and moisturizing and toning masks. Widely popular in Europe, Comodynes products have been recently featured by Bobbie Thomas on Today Morning Show, on CBS News Must-Haves and in Marie Claire, InStyle and Seventeen magazines.
BuyNutraSonic features beauty products for both women and men. Some of its most popular items include the NutraSonic Facial Cleansing Brush (facial and body sonic cleansing brush), the Cellulite Reduction Massager set, the NutraLuxe Lash eyelash conditioner, the Hair Active Laser Comb and numerous paraben free anti-aging serums.
About DNA Response. DNA Response, Inc. (DNA) provides turnkey e-commerce, online marketing, and order management services to companies in the $300 Billion direct response market. DNA clients sell products direct to consumers using TV, radio, print catalogs, web and mobile as their sales channels. DNA's ECOM2TM platform utilizes state-of-the art cloud computing technologies and services to improve operational efficiency by reducing transaction costs, eliminating credit card declines, and lowering order cancellations and product returns, while simultaneously increasing online revenue for our clients. DNA provides universal order management for processing orders in real time from all the sales channels with full visibility to the business for the clients. DNA generates incremental revenues and helps build a brand for our clients by providing comprehensive e-commerce and online marketing services.
###