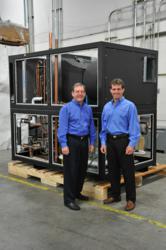 Air Innovations' products feature precise control of temperature, humidity, filtration and pressure and can be specified to fit in a variety of configurations
Syracuse, NY (PRWEB) December 01, 2011
Air Innovations, a specialty air conditioning, refrigeration and environmental control systems manufacturer, was named to Inc. magazine's 2011 list of the 5,000 fastest-growing private companies in America. Among manufacturers on the list, AI ranked #102 by posting a 71% increase in revenue growth between 2007 and 2010. Inc. magazine also included AI on the Inc. 5000 list in 2010.
Air Innovations' products are custom designs that feature close tolerance control of temperature (to plus/minus 0.01°C), humidity control (to plus/minus 0.5% stability), filtration and pressurization, and can be configured into a variety of spaces. AI's capabilities range from concept development to prototyping, from sample runs to mass production. They are sold worldwide to end users and original equipment manufacturers such as prime contractors, federal agencies, the U.S. military, pharmaceutical, medical device and electronics companies. Branded products include: Wine Guardian® wine cellar cooling systems for homes, restaurants and institutions; HEPAiRx® ventilating room air purifier for home use; HEPAir® and AdvancAir® environmental control systems for industrial applications; IsolationAir® portable contamination control systems for hospitals; and, Floratech® refrigerated floral displays for supermarkets. AI designs and builds more than 2,000 units annually in its 40,000-square-foot facility in North Syracuse, NY.
Air Innovations was also named a 2011 "Economic Champion" by the CenterState Corporation for Economic Opportunity (CenterStateCEO). CenterStateCEO is a business leadership and economic development organization that serves a 12-county region in Upstate New York. Air Innovations was acknowledged for adding employees, increasing capital expenditures and receiving national recognition. The corporation's 2011 highlights included celebrating a milestone 25 years in business in September and Chairman of the Board, Larry Wetzel, being named "Engineer of the Year" by Heating, Piping and Air Conditioning (HPAC) magazine. The Engineer of the Year award honors a mechanical or professional engineer engaged in heating, ventilation, air conditioning, refrigeration (HVACR) or building automation who has made significant contributions to his or her company and customers, the HVACR industry, and his or her community.
Wetzel, a licensed professional engineer (PE) in New York, New Jersey, Massachusetts and California, holds seven U.S. patents and one European patent, with other patents pending in Europe and Canada. His 1983 design of the first packaged and modular air conditioning system for the cleanroom industry, AdvancAir®, is still widely used today for environmental control of temperature, humidity and air quality in the manufacture of semiconductors and other electronics and pharmaceuticals.
For more information about Air Innovations, call visit http://www.airinnovations.com email info(at)airinnovations(dot)com or call 800-825-3268 (international callers, dial +1 315 452 7400).
###