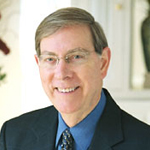 "Typically, we speak our own language. Whatever makes me feel loved, that's what I'm going to do for the other person. But if that's not their language, it won't mean to them what it would mean to me," said Gary Chapman
Irvine, CA (PRWEB) December 01, 2011
Jason Hartman discusses the popular book The Five Love Languages with author Gary Chapman on episode 220 of The Creating Wealth Show. Chapman explains in detail the concept of emotional love languages and stresses the importance of learning to speak the language of your partner in order to make him or her feel loved. The five love languages—words of affirmation, gifts, physical touch, quality time, and acts of service—enable people to determine the best way to express love to another person so that he or she will understand it.
"Typically, we speak our own language. Whatever makes me feel loved, that's what I'm going to do for the other person. But if that's not their language, it won't mean to them what it would mean to me," said Chapman. "It's similar to spoken language. Everyone grows up speaking a language and a dialect, and that's the one you understand best." However, he also stresses that "you can learn to speak any one of the five."
Dr. Chapman believes the importance of the five love languages becomes especially relevant after the first two years of a relationship. The first two years generally constitute the in-love stage of romantic love. After this period, the relationship moves into the stage of intentional love, at which the point the five love languages can make the difference between a successful relationship and a dying one.
When determining another person's love language, Dr. Chapman advises people to "Observe their behavior. How do they respond to other people? What do they complain about most often? What do they request of you most often? If you put those three together, you'll very likely find out the other person's love language."
In addition, he stresses the fact that the love language concept can be used by singles as well as married people. Whether you're in a relationship or planning one day to be in a relationship, the five love languages can prepare you for a successful experience.
Gary Chapman is a pastor, author, and international speaker. He has written many books including the popular The Five Love Languages, Anger: Handling a Powerful Emotion in a Positive Way, and Things I Wish I'd Known Before We Got Married. He received the Platinum Book Award from the Evangelical Pastors Association for The Five Love Languages and conducts regular marriage seminars around the country and across the globe.
About The Creating Wealth Show
The Creating Wealth Show was created for those interested in learning more about real estate investing, financial and entrepreneurship strategies. This show has been in production for over four years and features many cutting-edge topics and guests such as Harry Dent, Robert Kiyosaki, Michael Gerber, Ellen Brown, Yanik Silver, Shane Gibson, John Assaraf, Peter Schiff, Lawrence Yun and many more. For information, visit The Creating Wealth Show online.
# # #