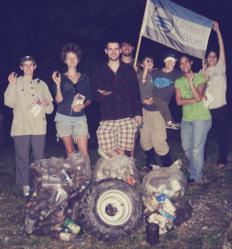 We wanted to do our own dirty work.
Philadelphia, PA (PRWEB) December 01, 2011
After a successful cleanup season that resulted in the removal of over 82,527 pounds of ocean pollution, United By Blue (UBB) is planning its next cleanup season and promoting holiday shopping deals at its online store.
The Philadelphia-based fashion company has two parts: on the one hand, it sells an apparel and accessories line that includes organic stone-washed t-shirts with vintage nautical designs, organic canvas bags, sterling silver jewelry, and a limited edition line of artisanal jewelry made by American designers. On the other hand, it hosts ocean and waterway cleanups.
"We started UBB so that we could build the infrastructure to host ocean and waterway cleanups within the company. That way, as the company grows, so does the environmental work," says Brian Linton, the company's Founder and Chief Trash Collector. "We wanted to own the environmental good. We wanted to do our own dirty work.
Since the company was founded in May 2010, it has hosted over 60 cleanups and has removed over 82,527 pounds of trash from oceans and waterways around the world.
"It's a big milestone for us," says Linton. "But we recognize that our work has only just begun. Over 14 billion pounds of trash enter our oceans every year, and one small group of people is only a start to changing the world. A more significant way to measure our impact is how many volunteers we reach."
Through its cleanups, UBB has also reached over 1,000 volunteers. "We know that we'll never be the sole solution to the ocean pollution problem, and so the real opportunity to make a difference lies with connecting with volunteers. Volunteers that come to cleanup sites and see with their own eyes how many plastic bottles and other single use disposables litter our riverbanks are motivated to change their own behavior in a way that can't be achieved otherwise," says Mike Cangi, UBB's Director of Cleanups. "Then we can start to make a dent in the number of plastic bottles that are used each year."
What UBB is doing is different not just because they're using the resources of a for-profit company to get out and do their own dirty work. More importantly, the UBB model shows the importance of how doing good for the environment must be 'cool' without compromising actual effectiveness.
"We say that we're a for-profit business with a social mission, and we make no qualms about being a business first and an environmental organization second," says Alli Blum, UBB's Director of Marketing. "We don't skimp on product development or branding, as we recognize that our product has to be something people want to buy in order for us to be able to grow as a business and to be able to accomplish our environmental mission."
The result is that the 5-People Strong Team has been able to host more cleanups and remove more trash than any other organization of its size. "And we're only going to clean up more trash," says Linton.
The brand's winter line is available now, including a Shark Fin Hoodie which was featured on Treehugger's 2011 Holiday Gift Guide. "It's definitely one of our best-selling items," says Blum.
# # #