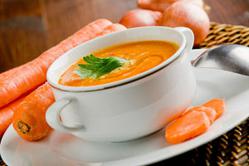 (PRWEB UK) 1 December 2011
The online garden experts from Love the Garden are delighted to announce the fourth and final vegetable garden competition of 2011 to make sure vegetables won't be forgotten this December: the Christmas Carrot Competition! The independent guest judge, Niamh Shields from Eat Like a Girl, will be looking for culinary creativity with carrots. The author of the best recipe will receive a £200 restaurant voucher to a UK restaurant of their choice. Three runners up will receive a copy of Niamh Shields' cookbook Comfort & Spice.
Entering the competition is easy.
All bloggers need to do is:

Share a carrot recipe on their own blog;
Mention the competition in the post;
Tell LovetheGarden by emailing the URL of their entry to entries@lovethegarden.com before 21st December 2011.
The orange root vegetable is a prominent part of traditional Christmas meals, but recipes don't have to be Christmas themed. Recipes for soups, salads, stir-fries and even cakes with this versatile vegetable are welcomed too.
LovetheGarden launched their first competition to find the best recipes for garden vegetables in February 2011, which encouraged bloggers to be creative with cabbage. The winner was Karolina with her Cabbage & Mushroom Pasties. In August, David Hall won the Potty for Potatoes competition with his Hot potato, bacon and nasturtium salad and the winner of the Taste for Tomatoes competition was Nic from Cherrapeno with her Summer Tomato Tart with Chilli Cheese Pastry. The carrot competition will be the last one for 2011, but in 2012, Lovethegarden will continue to encourage everyone in the UK to eat their five-a-day.
The deadline is 11.59pm (UK time) on 21th December 2011. For more information, please visit the vegetable garden competition page.
Notes to editors:
LovetheGarden ®, ™ and Miracle-Gro, Plus, Scotts and Pour & Feed are trade marks of The Scotts Miracle-Gro Company LLC or its affiliates.
The Scotts Miracle-Gro Company, Salisbury House, Catteshall Lane, Godalming, Surrey GU7 1XE
For more information please contact Brittany LaGambina, Brittany.LaGambina(at)arena-media(dot)co(dot)uk
###